31-08-2020 | Original Article | Uitgave 6/2021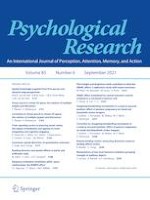 SNARC effect modulated by central executive control: revealed in a cue-based trisection task
Tijdschrift:
Auteurs:

Ping Zhang, Bihua Cao, Fuhong Li
Belangrijke opmerkingen
Publisher's Note
Springer Nature remains neutral with regard to jurisdictional claims in published maps and institutional affiliations.
Abstract
People respond to small numbers faster with the left hand and respond to large numbers faster with the right hand, a phenomenon known as the Spatial-Numerical Association of Response Codes (SNARC) effect. Whether the SNARC effect originates from culturally determined long-term experience or the task-set-influenced temporary associations among spaces, locations, and numerical magnitudes in working memory (WM) is still controversial. In the present study, we used a trisection paradigm in which numbers were divided into three categories (small: 1, 2; middle: 4, 5, 6; and large: 8, 9) to explore whether the central executive control can modulate the SNARC effect. Participants were serially presented with a cue and a target number. The cue denoted a task rule, which informed participants to compare the target number with either 3 or 7. The cue was either switched or repeated across trials. We found that the SNARC effects were observed in the cue-switching condition. In the cue-repeat condition, the SNARC effect disappeared. These findings suggest that the SNARC effect is modulated by set-shifting-related central executive control in WM, supporting the view that the SNARC effect is WM-dependent.