12-12-2018 | Artikelen | Uitgave 1/2019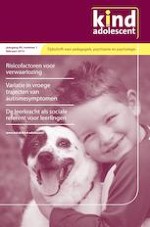 Risicofactoren voor verwaarlozing: een meta-analyse
Tijdschrift:
Auteurs:

MSc Tim M. Mulder, MSc Kimberly C. Kuiper, Dr. Claudia E. van der Put, Prof. dr. Geert-Jan J. M. Stams, Dr. Mark Assink
Belangrijke opmerkingen
Dit manuscript betreft een bewerking van: Mulder, T.M., Kuiper, K.C., Van der Put, C.E., Stams, G.J.J.M., & Assink, M. (2018). Risk factors for child neglect: a meta-analytic review.
Child Abuse & Neglect, 77
, 198–210.
https://​doi.​org/​10.​1016/​j.​chiabu.​2018.​01.​006
Samenvatting
Inleiding
Kennis over risicofactoren is essentieel om verwaarlozing van kinderen te voorkomen. In deze studie werd een meta-analyse uitgevoerd naar verschillende risicofactoren voor verwaarlozing.
Methode
315 effectgroottes werden afgeleid uit 36 studies en geclassificeerd in 24 risicodomeinen. Van elk risicodomein werd een effect geschat, waarna verschillende variabelen werden getoetst als moderator, waaronder de vorm van verwaarlozing, en geslacht en etniciteit van steekproeven.
Resultaten
Het effect van 15 risicodomeinen was significant en varieerde in sterkte van klein (
r
 = 0,110) tot groot (
r
 = 0,372). De sterkste risico's bleken oudergerelateerde factoren, zoals een verleden van antisociaal gedrag, mentale of psychiatrische problemen (actueel of in het verleden), een laag opleidingsniveau van ouders, en slachtofferschap van verwaarlozing of mishandeling in de eigen kindertijd.
Discussie
Geconcludeerd werd dat meerdere risicofactoren op verschillende niveaus (gezinsniveau, ouderniveau en kindniveau) kunnen bijdragen aan het risico op verwaarlozing van kinderen, maar dat met name ouder- en gezinsfactoren belangrijk zijn in preventie.