06-12-2018 | Artikelen | Uitgave 1/2019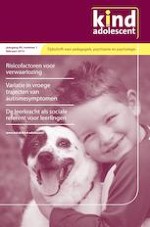 Leerkrachtgedrag en de kwaliteit van sociale relaties in de klas: de leerkracht als sociale referent voor de sociale status van de leerling
Tijdschrift:
Auteurs:

Dr. Marloes M. H. G. Hendrickx, Dr. Tim Mainhard, M.Sc. Sophie Oudman, Prof. dr. Antonius H. N. Cillessen, Prof. dr. Mieke Brekelmans
Belangrijke opmerkingen
Deze bijdrage is een bewerking van: Hendrickx, M.M.H.G., Mainhard, M.T., Oudman, V.S., Boor-Klip, H.J., & Brekelmans, M. (2017). Teacher behavior and peer liking and disliking: the teacher as a social referent for peer status.
Journal of Educational Psychology, 109
, 546–558.
https://​doi.​org/​10.​1037/​edu0000157
Samenvatting
Volgens de sociale-referentietheorie gebruiken klasgenoten interacties tussen de leerkracht en leerlingen om hun eigen beeld van die leerling te vormen. Deze studie heeft deze theorie getoetst, waarbij het verband tussen leerkrachtinteractie met een leerling en sociale status van deze leerling gemedieerd wordt door de percepties die klasgenoten hebben van hoe aardig de leerkracht de leerling vindt. We hebben 1.420 leerlingen in groep 7 (gemiddelde leeftijd 10,60 jaar) van 56 basisschoolklassen gevraagd op drie meetmomenten sociometrische vragenlijsten in te vullen. Tijdens het eerste meetmoment zijn ook video-opnames van de lessen gemaakt, waarbij docentgedrag is gecodeerd. Een pad-analyse liet zien dat leerkrachten inderdaad als sociale referent fungeren. Enkel negatief leerkrachtgedrag hield verband met de perceptie van klasgenoten dat de leerkracht de leerling onaardig vond, wat vervolgens weer verband hield met hoe onaardig de klasgenoten de leerling vonden. Leerkrachten zouden dus de sociale acceptatie van leerlingen kunnen bevorderen door hun openlijk negatieve gedrag naar leerlingen te verminderen.