01-05-2019 | Artikelen | Uitgave 2/2019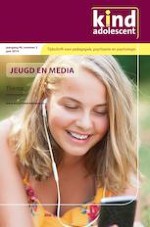 Socialemediagebruik, socialemediastress en slaap: crosssectionele en longitudinale verbanden tijdens de adolescentie
Tijdschrift:
Auteurs:

Winneke A. van der Schuur, Susanne E. Baumgartner, Sindy R. Sumter
Belangrijke opmerkingen
Dit artikel is een bewerking van: Schuur, W. A. van der, Baumgartner, S. E., & Sumter, S. R. (2018). Social media use, social media stress, and sleep: examining cross-sectional and longitudinal relationships in adolescents.
Health Communication
. Advance online publication.
https://​doi.​org/​10.​1080/​10410236.​2017.​1422101
.
Samenvatting
Er wordt vaak gedacht dat socialemediagebruik en socialemediastress een negatief effect hebben op de slaap. Het bewijs voor deze aanname is echter beperkt. Deze studie onderzoekt de crosssectionele en longitudinale verbanden tussen socialemediagebruik, socialemediastress en slaap (d.w.z. slaaplatentie en slaperigheid overdag). De vragenlijst werd door 1.441 adolescenten tussen de elf en vijftien jaar (51% jongens) op minstens een van de drie meetmomenten ingevuld. Crosssectioneel waren socialemediagebruik en socialemediastress positief gerelateerd aan slaaplatentie en slaperigheid overdag. Wanneer socialemediagebruik en socialemediastress gezamenlijk werden onderzocht, bleek socialemediagebruik echter geen significante voorspeller meer te zijn naast socialemediastress. De longitudinale bevindingen lieten zien dat socialemediastress ook longitudinaal positief samenhangt met slaaplatentie en slaperigheid overdag, maar dit gold alleen voor meisjes. De resultaten benadrukken dat het naast de frequentie van socialemediagebruik belangrijk is om te kijken naar ervaringen van socialemediagebruik.