01-05-2019 | Artikelen | Uitgave 2/2019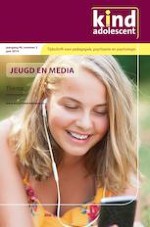 De rol van seksuele opvoeding in de ontwikkeling van seksualiteit en seksueel expliciete mediaconsumptie in de adolescentie
Tijdschrift:
Auteurs:

Prof. dr. Geertjan Overbeek, Dr. Daphne van de Bongardt, Dr. Laura Baams
Belangrijke opmerkingen
Dit artikel is een bewerking van een oorspronkelijk in het Engels verschenen artikel: Overbeek, G., Bongardt, D. van de, & Baams, L. (2018). Buffer or brake: the role of sexuality-specific parenting in adolescents' sexualized media consumption and sexual development.
Journal of Youth and Adolescence, 47
, 1427–1439.
Samenvatting
In dit onderzoek toetsen we twee hypothesen over de rol van seksuele opvoeding in de ontwikkeling van seksualiteit en seksueel expliciete mediaconsumptie tijdens de adolescentie. De
bufferhypothese
stelt dat een actieve mediaopvoeding door ouders het effect van seksueel expliciete mediaconsumptie op seksuele attituden en gedrag van adolescenten buffert, en
vice versa
, het effect van seksuele attituden en gedrag van adolescenten op hun seksueel expliciete mediaconsumptie buffert. Een tweede hypothese, de
remhypothese
, stelt dat ouders door het communiceren van een seksuele 'liefde-en-respectnorm' de ontwikkeling richting meer seksueel expliciete mediaconsumptie, meer permissieve seksuele attituden en meer seksueel (risico) gedrag kunnen afremmen. We analyseerden 4‑wave longitudinale gegevens van 514 Nederlandse adolescenten in de leeftijd van 13–16 jaar (48,8% meisjes) en vonden bewijs voor de remhypothese. Als ouders vaker een liefde-en-respectnorm communiceerden, hadden adolescenten een minder permissieve seksuele attitude en rapporteerden met name jongens dan minder vergevorderd seksueel gedrag, evenals een minder sterke stijging van seksueel risicogedrag. Een actieve mediaopvoeding voorspelde een minder permissieve seksuele attitude (bij meisjes), maar we vonden geen systematisch bewijs voor de bufferhypothese.