2017 | OriginalPaper | Hoofdstuk
7. Visies op het borderlineconcept: verleden, heden en toekomst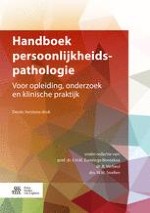 eerste hoofdstuk lezen
Identiteitsdiffusie of complex geheel?
Auteurs: Dr. Jurrijn Koelen, Prof. dr. Patrick Luyten, Mevrouw prof. dr. Liesbeth Eurelings-Bontekoe
Uitgeverij: Bohn Stafleu van Loghum
Samenvatting
In de geschiedenis zijn er talloze benaderingen met betrekking tot het ontstaan en de aard van borderlinepathologie ontwikkeld, waarbij de stoornis als subcategorie van de neurose, of als subcategorie van de psychose, of als zelfstandige entiteit werd benaderd. Wij menen dat (minimaal) acht benaderingen van of visies op het borderlineconcept kunnen worden onderscheiden. De visies worden in dit hoofdstuk verder toegelicht en beschreven; daarbij worden alle visies zoveel mogelijk vanuit hedendaags perspectief benaderd. Vele verschillende benaderingen verwijzen onzes inziens namelijk naar hetzelfde kernconcept, en wel een verstoorde affect- en stressregulatie. Ten slotte wordt ingehaakt op diagnostiek en indicatiestelling voor behandeling.