01-03-2014 | Wetenschappelijke artikelen | Uitgave 2/2014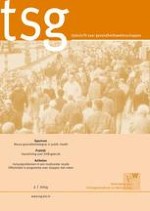 Inclusieproblemen bij een multicenter RCT naar de (kosten)effectiviteit van kortdurende counselling voor seksuele problemen van jongeren: Survival tips
Tijdschrift:
Auteurs:

Jacques van Lankveld, Andrea Grauvogl, Katy van den Hoek, Anja Franke, Silvia Evers
Belangrijke opmerkingen
Faculteit Psychologie en Onderwijswetenschappen, Open Universiteit, Heerlen
Faculty of Psychology and Neuroscience, Universiteit Maastricht, Maastricht
GGD Rotterdam-Rijnmond, Rotterdam
School Caphri, Department of Health Services Research, Universiteit Maastricht, CAPHRI
Jacques van Lankveld, Faculteit Psychologie en Onderwijswetenschappen, Open Universiteit, Postbus 2960, 6401 DL Heerlen, e-mail: jacques.vanlankveld@ou.nl
Samenvatting
Vertraagde aanmelding en inclusie vormen serieuze bedreigingen voor de succesvolle uitvoering van wetenschappelijk onderzoek. In dit artikel worden de problemen met werving en inclusie beschreven van een gerandomiseerde gecontroleerde studie (RCT) die een evaluatie beoogt van de werkzaamheid en kosteneffectiviteit van een kortdurende counseling interventie bij jongeren met seksuele problemen, alsmede een beschrijving van diverse interventies om deze uitvoeringsproblemen het hoofd te bieden. De invloed van de interventies op werving en inclusie worden geëvalueerd. Alhoewel het onderhavige onderzoek zich specifiek richt op jongeren met seksuele problematiek en de evaluatie van een nieuwe interventie ter voorkoming van de problematiek, zijn de bevindingen ook interessant voor onderzoek onder andere leeftijdsgroepen, en met andere onderzoeksinteressen.