01-11-2013 | Original Paper | Uitgave 11/2013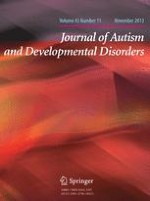 Comparison of ICD-10R, DSM-IV-TR and DSM-5 in an Adult Autism Spectrum Disorder Diagnostic Clinic
Tijdschrift:
Auteurs:

C. Ellie Wilson, Nicola Gillan, Deborah Spain, Dene Robertson, Gedeon Roberts, Clodagh M. Murphy, Stefanos Maltezos, Janneke Zinkstok, Katie Johnston, Christina Dardani, Chris Ohlsen, P. Quinton Deeley, Michael Craig, Maria A. Mendez, Francesca Happé, Declan G. M. Murphy
Belangrijke opmerkingen
Francesca Happé and Professor Declan Murphy are joint senior authors.
Data from this manuscript were presented at the International Meeting for Autism Research, Toronto, Canada, May 2012.
Francesca Happé is part of the DSM-5 workgroup on neurodevelopmental disorders.
Abstract
An Autism Spectrum Disorder (ASD) diagnosis is often used to access services. We investigated whether ASD diagnostic outcome varied when DSM-5 was used compared to ICD-10R and DSM-IV-TR in a clinical sample of 150 intellectually able adults. Of those diagnosed with an ASD using ICD-10R, 56 % met DSM-5 ASD criteria. A further 19 % met DSM-5 (draft) criteria for Social Communication Disorder. Of those diagnosed with Autistic Disorder/Asperger Syndrome on DSM-IV-TR, 78 % met DSM-5 ASD criteria. Sensitivity of DSM-5 was significantly increased by reducing the number of criteria required for a DSM-5 diagnosis, or by rating 'uncertain' criteria as 'present', without sacrificing specificity. Reduced rates of ASD diagnosis may mean some ASD individuals will be unable to access clinical services.