Gepubliceerd in: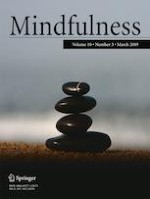 18-07-2018 | ORIGINAL PAPER
The Role of Dispositional Mindfulness in the Longitudinal Associations Between Stressors, Maladaptive Schemas, and Depressive Symptoms in Adolescents
Gepubliceerd in: Mindfulness | Uitgave 3/2019
Log in om toegang te krijgen
Abstract
This study, based on a transactional perspective of psychopathology, aimed to examine whether the mindful attention and awareness component of mindfulness moderates the bidirectional long-term predictive associations between dependent stressors, maladaptive schemas, and depressive symptoms in adolescents. It was hypothesized that mindful attention and awareness would buffer the predictive bidirectional associations between these variables. The sample was composed of 1190 high school students (48.7% girls) from the Basque Country (Spain), who participated in a two-wave longitudinal study spaced 2 years apart. The participants were all between 13 and 18 years old (
M
 = 15.16,
SD
 = 0.95). They completed a measure of dispositional mindfulness at wave 1, and measures of dependent stressors, schemas from the disconnection/rejection schema domain, and depressive symptoms at both waves. Results indicated that mindful attention and awareness reduced the predictive associations between disconnection/rejection schemas and depressive symptoms at follow-up (wave 2). In addition, mindfulness predicted lower scores on maladaptive schemas, dependent stressors, and depressive symptoms at follow-up and buffered the stability of schemas over time. However, these findings were statistically significant only for boys. The results suggest that mindfulness-based intervention can be used to reduce maladaptive schemas that are relevant for depressive symptoms in adolescents.