Gepubliceerd in: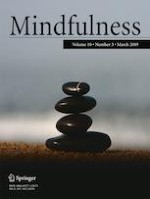 05-07-2018 | ORIGINAL PAPER
Heart of Joy: a Randomized Controlled Trail Evaluating the Effect of an Appreciative Joy Meditation Training on Subjective Well-Being and Attitudes
Gepubliceerd in: Mindfulness | Uitgave 3/2019
Log in om toegang te krijgen
Abstract
Many studies support the beneficial effects of the "four immeasurable meditations" (FIM) that originate from Buddhism, but most psychological interventions adopt FIM that cultivate loving-kindness and compassion. The current study developed and evaluated a 4-week training program named "Heart of Joy" (HOJ) that is based on FIM that cultivate appreciative joy. Participants were randomly assigned to HOJ training (
n
 = 59) or a wait-list condition (
n
 = 42), and the final sample consisted of 41 participants in each condition. Satisfaction with life, appreciative joy, envy, emotions, and attitudes toward oneself and others were measured at pre-training, at post-training, and at a 1-month follow-up. The time × condition (M)ANOVA showed that HOJ participants had significantly higher low-arousal positive emotions and lower high-arousal and low-arousal negative emotions at both the post-training and follow-up assessments, as well as higher medium-arousal positive emotions at the post-training assessment only. HOJ participants also reported significantly higher life satisfaction at both the post-training and follow-up assessments and significantly lower envy at the follow-up assessment. The results had a medium effect size (Cohen's
d
values ranging from 0.52 to 0.69). Appreciative joy, all attitudes, high-arousal positive emotions, and medium-arousal negative emotions did not show significant results. Further investigations revealed that changes in appreciative joy were more closely associated with changes in high-arousal than low-arousal positive emotions, and changes in envy were more closely associated with changes in attitudes toward oneself than attitudes toward others; this outcome indicates that appreciative joy and envy were impacted during this intervention. This study suggests that HOJ is a promising training program to improve subjective well-being and envy, and the implications for research were discussed.