01-06-2011 | Uitgave 2/2011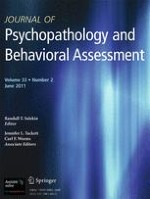 The Moderating Effect of Anxiety on Development in Atypically Developing Toddlers
Auteurs:

Thompson E. Davis III, Julie A. Hess, Russell A. Matthews, Jill C. Fodstad, Tim Dempsey, Whitney S. Jenkins, Brittany N. Moree, Johnny L. Matson
Abstract
In typically developing children, researchers have found that anxiety disorders are associated with poorer intellectual abilities (Davis et al. Journal of Psychopathology and Behavioral Assessment 30:43–51,
2008
). The aim of the current study was to examine the impact anxiety symptoms had on the developmental quotients of toddlers. A total of 170 toddlers ranging in age from 17 to 37 months were selected for inclusion in this study, all of whom were at risk for or had a developmental delay. Two factors indicative of behavioral symptoms of anxiety from the
Baby and Infant Screen for Children with aUtIsm Traits-Part2
were utilized as the independent variables and the total developmental quotient from the
Battelle Developmental Inventory, 2nd Edition
was utilized for the dependent variable. Examination of results revealed that atypically developing toddlers with symptoms of anxiety had significantly lower developmental quotients when compared to toddlers without any anxiety symptoms. A discussion of the implications and limitations of this study are included.