01-04-2013 | Uitgave 3/2013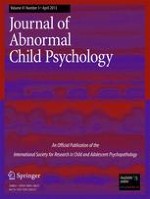 Reading Comprehension in Children with ADHD: Cognitive Underpinnings of the Centrality Deficit
Tijdschrift:
Auteurs:

Amanda C. Miller, Janice M. Keenan, Rebecca S. Betjemann, Erik G. Willcutt, Bruce F. Pennington, Richard K. Olson
Belangrijke opmerkingen
This research was supported by a grant from National Institute of Health HD27802 to the Colorado Learning Disabilities Research Center. These data were presented at the 2009 meeting of the Society for Research in Child Development and the 2008 meeting of Society for the Scientific Study of Reading. We thank Sarah J. Priebe and Chelsea Meenan for discussions of the data, all the participants and their families, and all the testers and scorers.
Abstract
We examined reading comprehension in children with ADHD by assessing their ability to build a coherent mental representation that allows them to recall central and peripheral information. We compared children with ADHD (mean age 9.78) to word reading-matched controls (mean age 9.89) on their ability to retell a passage. We found that even though children with ADHD recalled more central than peripheral information, they showed their greatest deficit, relative to controls, on central information—a centrality deficit (Miller and Keenan, Annals of Dyslexia 59:99–113,
2009
). We explored the cognitive underpinnings of this deficit using regressions to compare how well cognitive factors (working memory, inhibition, processing speed, and IQ) predicted the ability to recall central information, after controlling for word reading ability, and whether these cognitive factors interacted with ADHD symptoms. Working memory accounted for the most unique variance. Although previous evidence for reading comprehension difficulties in children with ADHD have been mixed, this study suggests that even when word reading ability is controlled, children with ADHD have difficulty building a coherent mental representation, and this difficulty is likely related to deficits in working memory.