06-06-2015 | Original Paper | Uitgave 10/2015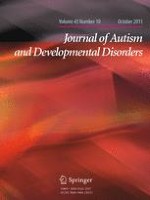 Is Grammar Spared in Autism Spectrum Disorder? Data from Judgments of Verb Argument Structure Overgeneralization Errors
Tijdschrift:
Auteurs:

Ben Ambridge, Colin Bannard, Georgina H. Jackson
Abstract
Children with Autism Spectrum Disorder (ASD) aged 11–13 (
N
= 16) and an IQ-matched typically developing (TD) group aged 7–12 (
N
= 16) completed a graded grammaticality judgment task, as well as a standardized test of cognitive function. In a departure from previous studies, the judgment task involved verb argument structure overgeneralization errors (e.g., *
Lisa fell the cup off the shelf
) of the type sometimes observed amongst typically developing children, as well as grammatical control sentences with the same verbs (e.g.,
The cup fell off the shelf
). The ASD group showed a smaller dispreference for ungrammatical sentences (relative to the control sentences) than did the TD group. These findings are indicative of a subtle grammatical impairment in even relatively high-functioning children with ASD.