02-01-2021 | Original Article | Uitgave 4/2021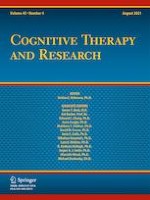 Interpersonal Patterns in Social Anxiety Disorder: Predictors and Outcomes of Cognitive-Behavioral Therapy
Tijdschrift:
Auteurs:

Michaela B. Swee, Rachel M. Butler, Brennah V. Ross, Arielle Horenstein, Emily B. O'Day, Richard G. Heimberg
Belangrijke opmerkingen
Supplementary Information
Publisher's Note
Springer Nature remains neutral with regard to jurisdictional claims in published maps and institutional affiliations.
Abstract
Background
Given the strong associations of social anxiety disorder (SAD) with interpersonal problems and insecure attachment, this study sought to examine specific interpersonal problem domains in relation to the outcome of cognitive-behavioral therapy (CBT) for SAD.
Method
Ninety-five adults with SAD received individual CBT and completed a measure of attachment style at pretreatment, as well as measures of interpersonal problems and social anxiety at pre- and posttreatment.
Results
At baseline, social anxiety was significantly associated with overall interpersonal problems, multiple specific interpersonal problems, as well as insecure attachment. Interpersonal problems decreased significantly over the course of treatment but did not predict a reduction in social anxiety. No specific interpersonal problem predicted changes in social anxiety. The greatest changes from pre- to posttreatment were observed across avoidance-related interpersonal problems. Higher levels of secure attachment predicted lower social anxiety, but individuals with less secure attachment experienced a greater reduction in social anxiety from pre- to posttreatment. However, this interaction was significant for only one of three measures of social anxiety.
Conclusions
Our findings suggest that although higher levels of interpersonal problems and lower levels of secure attachment predict greater social anxiety, interpersonal problems and insecure attachment do not predict poorer treatment outcome.