29-01-2018 | Uitgave 3/2018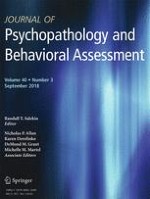 Executive Functioning Correlates of
DSM-5

Maladaptive Personality Traits: Initial Evidence from an Italian Sample of Consecutively Admitted Adult Outpatients
Auteurs:

Andrea Fossati, Antonella Somma, Serena Borroni, Kristian E. Markon, Robert F. Krueger
Belangrijke opmerkingen
Electronic supplementary material
Abstract
In order to evaluate the associations between computer-administered tasks of executive functioning (EF), and maladaptive personality domains and traits listed in
DSM-5
Alternative Model of Personality Disorders, 53 consecutively admitted psychotherapy outpatients (female participants:
n
 = 27, 50.9%; male participants:
n
 = 26, 49.1%; participants' mean age = 37.28 years,
SD
 = 11.50 years) were administered the Psychology Experiment Building Language (PEBL) EF tasks and the Personality Inventory for
DSM-5
(PID-5). According to rank-order correlation analyses, a number of non-negligible and specific associations were observed between selected PID-5 scales and indices of participants' performance on EF tasks. MM robust regression models showed that participants' performance on computer-administered EF tasks explained a non-negligible amount of variance in selected PID-5 scale scores (median
R
2
value = .17). As a whole, our trait-level analyses of PID-5 dimensions suggest the clinical usefulness of integrating self-reports and EF laboratory tasks in routine clinical assessment.