18-01-2018 | Uitgave 3/2018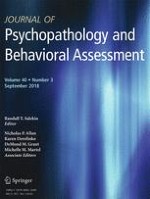 Physiological Emotion Regulation in Children with ADHD with and without Comorbid Internalizing Disorders: a Preliminary Study
Auteurs:

Kirsten D. Leaberry, Paul J. Rosen, Nicholas D. Fogleman, Danielle M. Walerius, Kelly E. Slaughter
Abstract
Children with Attention-Deficit/Hyperactivity Disorder (ADHD) experience deficits in emotion regulation that can be measured physiologically under environmental stress conditions by examining respiratory sinus arrhythmia (RSA), a marker of parasympathetic nervous system (PNS) withdrawal. The current pilot study examined the impact of comorbid internalizing disorders and comorbid Oppositional Defiant Disorder (ODD) on emotion regulation in children with ADHD by measuring RSA as an indicator of dysregulated emotional reactivity. Twenty-four 7–10 year old children with ADHD participated in the current study. Children completed a 5-min resting attending baseline while electrocardiogram data (ECG) were recorded to examine baseline RSA. Children then completed a stress inducing, blocked goal, Card Sorting Task to measure RSA reactivity to stress. Results revealed a significant effect of internalizing disorder status on RSA difference score,
F
(1, 18) = 5.83,
p
 = .03,
η
2
=
.25. Children in the comorbid internalizing disorder group had a significantly greater decrease in RSA from the baseline time period to the card sorting task. There was no significant effect of ODD diagnostic status on RSA difference score,
p
 > .05. The results of this preliminary study suggest that among children with ADHD, the presence of a comorbid internalizing disorder predicts greater withdrawal of the PNS. These findings represent an important step in understanding autonomic functioning of children with ADHD and comorbid disorders.