14-12-2018 | Original Article | Uitgave 4/2020 Open Access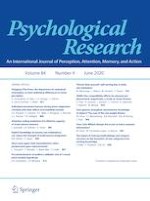 Does gesture strengthen sensorimotor knowledge of objects? The case of the size-weight illusion
Tijdschrift:
Auteurs:

Wim Pouw, Stephanie I. Wassenburg, Autumn B. Hostetter, Bjorn B. de Koning, Fred Paas
Belangrijke opmerkingen
Wim Pouw and Stephanie I. Wassenburg shared first authorship.
Open Data & Pre-registration: Pre-registration form, raw data, and analyses supporting this research report can be retrieved from The Open Science Framework (
https://​www.​osf.​io/​9uh6q/​
). Due to privacy concerns, the video data cannot be shared publicly.
Publisher's Note
Springer Nature remains neutral with regard to jurisdictional claims in published maps and institutional affiliations.
Introduction
Method
Results
The method and results of this study were pre-registered. We, first, present the results pertaining to hypotheses and analyses that were pre-registered. As described, these confirmatory analyses did not support the predictions stated in the pre-registration. We, thus, conducted several further analyses to help contextualize and understand these null findings. Such analyses are labeled as exploratory in the sections that follow.
Discussion
The present pre-registered study assessed how gestures support memory for sensorimotor information of the weight of task-relevant objects during problem solving. The pieces were designed to induce the visual-haptic size-weight illusion (SWI), which is a consciously experienced perception that smaller objects are heavier than larger objects when the two are actually the same weight. Because gestures have been suggested to affect sensorimotor knowledge (Beilock & Goldin-Meadow,
2010
; Cooperrider et al.,
2015
; Goldin-Meadow & Beilock,
2010
; Trofatter et al.,
2015
), it was predicted that the magnitude of the SWI would be affected when participants gestured about the task-relevant objects. On one hand, gestures could increase the size of the illusion, suggesting that gestures strengthen, in memory, the consciously perceived illusion that the pieces differ in weight. On the other hand, gestures could decrease the size of the illusion, suggesting that gestures strengthen the implicit sensorimotor knowledge that the pieces have the same weight. We found no evidence to support the prediction that gesturing about the problem pieces affected the weight estimates of the pieces in either direction. Instead, our results show that judgments about the weight of the cubes were unaffected by whether participants gestured.
Interestingly, our exploratory analyses revealed that speakers who produced the most gestures mimicking the form of the two-handed lifting and moving actions involved in the task were also the most likely to experience a large inverted SWI in their memory for the pieces. Namely, the number of two-handed grasp gestures produced per minute by participants who were told to gesture as they explained the task was reliably associated with their memory of how heavy the pieces were. This finding, thus, replicates the previous reports that action-relevant gestures are reflective of sensorimotor cognition (e.g., Beilock & Goldin-Meadow,
2010
; Wassenburg et al.,
2018
). Furthermore, we provide an additional evidence that the velocity with which speakers lifted their hands as they gestured is related to their memory of the objects' weight. When speakers thought of the objects as heavy in their memory, they gestured about them as though they would be more difficult to lift, as indicated by lower average velocity traces. This provides evidence that speakers embody weight information in the kinematics of their co-speech gestures (as predicted by Mangelsdorf, Cooperrider, & Goldin-Meadow,
2017
; see also Ansuini et al.,
2016
for related findings with pantomimes; see also Cook & Tanenhaus,
2009
, for how gesture kinematics is affected by the previous task experiences). Future research could specifically focus on how the kinematics of gestures about interactions with objects might be similar to and different from the kinematics of actually interacting with the objects. Indeed, although gestures might approximate object-oriented actions in some respects (as shown here), they are very likely to diverge on the other aspects wherein kinematics are constrained by dynamics that arise by actual wielding of objects (e.g., Runeson & Frykholm,
1983
).
Furthermore, this is the first evidence that gestures reflect sensorimotor information that is consciously perceived, rather than the precise kinematics of a previous action. Participants who believed the objects were heavier gestured about them with slower lifting velocities than participants who believed that they were lighter, even though all objects in the present study were of exactly the same weight and required identical lifting velocities as participants solved the task. This is interesting, because it suggests that gestures are not direct recreations of the previous actions; rather, they are actions that are filtered through the participants' conscious beliefs about those actions. This finding aligns with claims that gestures are representational (Novack & Goldin-Meadow,
2017
) or simulated (Hostetter & Alibali,
2008
) actions. Thus, actions and gestures are critically different, because gestures cannot and do not attune to action-relevant information in the environment the way that actual actions on objects do (Laimgruber, Goldenberg, & Hermsdörfer,
2005
; Kuntz, Karl, Doan, & Whishaw,
2018
; Runeson & Frykholm,
1983
), at least not when the objects are not present (cf. Chu & Kita,
2016
). Although gestures may have their origin in the action system, their execution is affected by the producer's sensorimotor expectations about how they would act in the world, rather than by an implicit memory of how that action was actually produced.
In the current task, it is possible that participants were not judging the weight of the objects on the basis of attuning to the previous experience via memory at all. It might be that no such memory about weight was available, or, otherwise, explicable. Instead, a rational choice was made on the fly based on a heuristic that larger/smaller objects are heavier/lighter. It is unclear, however, why the use of such a strategy would be related to how speakers gesture about lifting the pieces. Instead, we argue that participants were most likely accessing a haptic knowledge for a simulation for what it felt like to lift the pieces when they made their weight judgments. Indeed, it has been found that, when judging an object's weight, people actually imagine holding the object rather than using some kind of propositional rule (Klatzky, Lederman, & Matula,
1991
). Furthermore, it has been found that previously experienced haptic information can be attuned to with some success, as haptic memory of objects even allows one to discover new properties of the object in imagery (Pouw, Aslanidou, Kamermans, & Paas,
2017
; see also Kamermans et al., under review). Thus, although there is a possibility that participants only remembered visual properties of the objects and then used these visual properties to make heuristic inferences about the objects' haptic properties, research suggests that this is not how people tend to judge haptic properties from memory.
We speculate that both gestures and weight estimates in the current context result from simulations that are neither the result of a "pure memory" of a previous action, nor the result of a rule-like "heuristic" that "small/large objects are lighter/heavier". Rather, a simulation involves generation of information that abides by regularities observed in the real-world, and is not the simple replay of a previously performed action. This is based on the argument that actions are not represented by some motor plan that incorporates a list of muscle activations needed to perform the action successfully (Bernstein,
1966
). Indeed, research (e.g., Kelso, Tuller, Vatikiotis-Bateson, & Fowler,
1984
) has shown that when an action is initiated (e.g., speaking), perturbation of the trajectory of that action (e.g., locking the jaw in place) leads to fluid adjustments which recruit the other muscles than would, otherwise, be the case (e.g., lip adjustments), yielding a new sensorimotor solution to the same goal (e.g., speaking a syllable "|baeb|"). Thus, if gesture is derived from practical action, it is likely based on the broader ability to construct sensorimotor solutions constrained by contextual demands, rather than on memory of sensorimotor particulars. Of course, gestures are far less constrained by contextual demands than actions, because they do not involve real objects. This is precisely why gestures may reflect stereotypical sensorimotor solutions—gestures act out actions in ways that would fit most contexts (e.g., slower lifting gestures for heavier objects). A simulation is, therefore, a
constructive
process based on the accumulated sensorimotor knowledge that "smaller/larger objects are lighter/heavier", but it goes beyond a simple heuristic, because it involves knowledge of real-world sensorimotor contingencies. We suggest that both producing gestures about interacting with the pieces and imagining the pieces so as to judge their weight rely on the simulation of expectations about how it would feel to interact with the pieces.
Importantly, however, in our study, we find no evidence that gesturing about the pieces in a certain way caused a change in how participants thought about the weight of the pieces. Experimentally manipulating gesture did not affect participants' recollection or perception of the weights of the cubes. The fact that no significant differences between conditions were found and speech content did not affect perceived heaviness indicates that it is unlikely that our choice of conditions impacted our results. Instead, we observed an effect within the gesture condition—a correlation between how participants thought about the cubes and how they gestured about them. Participants' utilization of two-handed gestures was related to the magnitude of the SWI they experienced, and the velocity with which they gestured was related to their recalled heaviness of the cubes. We speculate that, in both cases, how people thought about the task as they described it was reflected in gesture. Participants may have imagined the motor kinematics of the task to a greater or lesser degree as they were explaining the problem. Those more inclined to simulate the specifics of interacting with the cubes were more likely to produce two-handed gestures that showed the specific action required to manipulate the cubes, including the relative velocity of lifting light/heavy objects. Furthermore, participants who thought more specifically about the motor processes involved in the task as they were describing were also likely to form a weight judgment that was based on a
sensorimotor
judgment when asked to judge the objects' weight. Such detailed sensorimotor imagination of the cubes (both during the description task and during the rating task) was particularly likely to be distorted by the sensorimotor know-how that large objects are generally heavy. Under this explanation, two-handed lifting gestures were an embodiment of detailed sensorimotor imagery about lifting, but were not a driving agent in whether participants adopted a detailed sensorimotor imagining or not.
An interesting aspect of this finding is how the judgments were biased when they were made from memory. In the classic SWI, participants judge a smaller cube that they are holding as heavier than a larger cube when the two are actually the same weight. Although we replicated this traditional SWI when the cubes were compared from immediate experience (the smaller cube was perceived as 43% heavier than the larger cube), when participants were asked to judge the heaviness of the cubes from memory, they seemed to judge heaviness rationally—that is, they reported that the larger cube had felt 21% heavier than the smaller cube.
4
This effect was not predicted, and to our knowledge, this is the first study that has revealed an inverted SWI when weight judgments are made from memory (as the SWI is generally not studied in relation to the memory system). The previous research has indicated that people actually imagine holding an object when judging the object's weight and other haptic properties (Klatzky et al.,
1991
), yet the observed inversion of the SWI in memory suggests that this active imagining is not operating with accurate implicit memories of how these particular objects were perceived as they were manipulated (which would have led to no illusion) or with accurate explicit memories of how these particular objects were perceived as they were manipulated (which would have led to the traditional smaller-is-heavier illusion). Instead, the judgment seems to be based on a stereotypical understanding that larger objects are typically heavier than smaller objects.
One of the reviewers of the current paper suggested that there is a possibility that the memory of sensorimotor experiences may be affected by sensorimotor expectations. Under this view, it is not so much that participants are drawing from a memory of a sensorimotor experience (e.g., small object being heavy), but rather from a transformed memory where unexpected aspects of the sensorimotor event (e.g., light objects feeling heavier) are "washed out". The degree to which a memory is resolved in favor of a sensorimotor expectancy might then explain why gesture is related to heaviness ratings from memory. The task-relevant two-handed gesturing effectively is related to expectancy, not so much a memory. We are very favourable to this idea as we have argued that gestures are governed by a system that operates on a history of sensorimotor contingencies, rather than on the sensorimotor specifics of a moment ago, though the scope of the current results deems this idea still too speculative, and more research is needed to directly test this idea. Note that research on the SWI has confirmed that repeated interactions with objects can affect the illusion, suggesting that the sensorimotor history can be manipulated and is not some unchangeable pre-given. Namely, Flanagan, Bittner, and Johansson (
2008
) have found that after a multi-day training with interacting with objects that induce the SWI (240 lifts for 11 days), the SWI not only dissipates, it is inverted. Extensively trained participants judged larger objects as heavier than smaller objects that weighed the same. If gestures are indeed based on expectations that operate on slow timescales, we would expect that multi-day training with new sensorimotor contingencies would be (especially) apparent in the way that people gesture about such contingencies. Further research can explore our hypothesis that gestures attune to a history of sensorimotor interactions by assessing effects of multi-day training vs. immediate previous experiences when we gesture about object manipulations. Furthermore, perhaps, in the current paradigm, repeated sensorimotor imagining of the objects in gesture may come to affect sensorimotor expectations given enough time (Pouw & Hostetter,
2016
).
To conclude, the present pre-registered study has offered novel insights into how gestures are related to memory of sensorimotor information. Although gesturing about the cubes did not affect participants' memories of how heavy the objects were or their judgments of perceived heaviness when the objects were held again, the kinematics of gestures were related to speakers' thinking about sensorimotor properties of the cubes. The results indicate that gestures reflect rather than affect the way that we think about and remember objects' sensorimotor properties, at least in the context examined here. It appears that gestures do not just reveal information about the actions which a speaker performed; instead, they reveal how the speaker thinks about what they did.
Acknowledgements
We would like to express our gratitude to Habibah Ashrafi, Tudor Cristea, Mariëlle de Nie, and Amanda Moreira Joao for their help in collecting the data. We also would like to express our gratitude to Azaria Boots for transcribing speech and annotating gesture. This research was partially funded by the Research Excellence Initiative grant from the Erasmus University Rotterdam awarded to the Educational Psychology section. In addition, this research was partially funded by the Netherlands Organisation of Scientific Research (NWO) under a Rubicon Grant (446-16-012; PI Wim Pouw).
Compliance with ethical standards
Conflict of interest
The authors declare that they have no conflict of interest.
Ethical approval
All procedures performed in this study involving human participants were in accordance with the ethical standards of the institutional and/or national research committee and with the 1964 Helsinki declaration and its later amendments or comparable ethical standards. This article does not contain any studies with animals performed by any of the authors.
Human and animal rights participants
This article does not contain any studies with animals performed by any of the authors.
Open Access
This article is distributed under the terms of the Creative Commons Attribution 4.0 International License (
http://​creativecommons.​org/​licenses/​by/​4.​0/​
), which permits unrestricted use, distribution, and reproduction in any medium, provided you give appropriate credit to the original author(s) and the source, provide a link to the Creative Commons license, and indicate if changes were made.
Appendix 1
Table 1
Bivariate Pearson's correlations among variables of the study
| Measures | | SD | 1 | 2 | 3 | 4 | 5 | 6 | 7 | 8 | 9 | 10 | 11 | 12 |
| --- | --- | --- | --- | --- | --- | --- | --- | --- | --- | --- | --- | --- | --- | --- |
| 1. Gestures (p/m) | 15.91 | 4.15 | – | | | | | | | | | | | |
| 2. One-hand gestures (p/m) | 2.39 | 2.70 | 0.247 | – | | | | | | | | | | |
| 3. Two-hand gestures (p/m) | 4.60 | 3.60 | 0.315* | − 0.618*** | – | | | | | | | | | |
| 4. Deictic gestures (p/m) | 7.33 | 2.81 | 0.696*** | 0.192 | − 0.168 | – | | | | | | | | |
| 5. Words (p/m) | 103.69 | 25.39 | 0.484*** | 0.234 | − 0.033 | 0.411** | – | | | | | | | |
| 6. Practice time (s) | 234.36 | 80.50 | 0.113 | − 0.240 | 0.112 | 0.123 | − 0.160 | – | | | | | | |
| 7. Explanation time (s) | 126.09 | 7.77 | − 0.053 | 0.161 | − 0.146 | − 0.020 | 0.088 | 0.030 | – | | | | | |
| 8. Small cube (recalled) | 3.88 | 1.83 | 0.057 | 0.203 | − 0.150 | 0.098 | − 0.107 | − 0.055 | 0.001 | – | | | | |
| 9. Large cube (recalled) | 4.71 | 1.58 | 0.416** | 0.053 | 0.292* | 0.142 | 0.155 | 0.002 | − 0.174 | 0.218** | – | | | |
| 10. SWI (recalled) | − 0.83 | 2.14 | − 0.283* | 0.139 | − 0.368** | − 0.026 | − 0.212* | − 0.049 | 0.130 | 0.694*** | − 0.552*** | – | | |
| 11. Small cube (perceived) | 5.32 | 1.61 | 0.149 | 0.166 | − 0.006 | 0.082 | 0.050 | 0.047 | 0.111 | 0.505*** | 0.489*** | 0.068 | – | |
| 12. Large cube (perceived) | 3.72 | 1.37 | 0.158 | 0.061 | 0.041 | 0.204 | 0.079 | − 0.000 | 0.016 | 0.543*** | 0.514*** | 0.082 | 0.485*** | – |
| 13. SWI (perceived) | 1.60 | 1.53 | 0.005 | 0.120 | − 0.048 | − 0.115 | − 0.020 | 0.050 | 0.101 | 0.042 | 0.052 | − 0.002 | 0.617*** | − 0.389*** |
Appendix 2
Analysis 4: individual differences in practice time
We assessed whether differences in time spent practicing the task differed per condition. An ANOVA revealed that this was not the case (
F
 < 1, BF's
01
 = 6.82). Furthermore, there were small differences in the amount of time allotted (SD = 7.77 s) to explain the task, as one experimenter stopped the stopwatch when participants started to explain the rules of the task instead of the procedure of the task. This did not lead to significant differences in explanation time between the no-gesture vs. gesture condition, (
F
 < 1, BF's
01
 = 6.32). Neither practice time nor explanation time was statistically significant when added as covariates to the previous confirmatory analyses for the effect of Condition on heaviness ratings (
F
s < 1, BF's
01
 > 3.46).
Analysis 5: individual differences in speech and its relation with gesture
Although none of the participants in the explanation conditions (no-gesture and gesture condition) mentioned weight or heaviness during their explanations, nine participants mentioned size at least once. Of these, four were in the no-gesture condition, and five were in the gesture condition (mean number of mentions of size: no-gesture condition = 0.17, SD = 0.67, gesture condition = 0.45, SD = 1.61,
t
[104] = 1.18
p
 = .241, BF
01
 = 2.62,
d
 = 0.23). In general, participants in the no-gesture condition spoke 97.00 (SD = 26.19) words per minute, as compared to 110.39 (SD = 22.90) words per minute for participants in the gesture condition. This difference in speech rate was statistically significant,
t
(104) = 2.80,
p
 = .006, BF
10
 = 6.370,
d
 = 0.54.
We further assessed relations between spoken words per minute, the number of mentions of weights and size, and gesture frequencies per minute (see also Table
1
in "Appendix 1"). First, there was a statistically significant positive correlation between number of words spoken and the total number of gestures (
p
 < .001, BF
10
 = 120.135) and deictic gestures (
p
 = .002, BF
10
 = 16.35). However, the number of words spoken did not significantly correlate with two-handed gestures (
p
 = .176, BF
01
 = 5.69) or one-handed gestures (
p
 = .264, BF
01
 = 1.45). No significant correlations were found for the number of mentions of size of the cubes and gesture frequencies.
Although the number of words spoken did not seem related to two-handed gestures, it did relate in a similar way to the inverted SWI. Namely, just as two-handed gestures were related to a larger inverted SWI from memory, higher speech rates also related to a larger inverted SWI,
β
 = − 0.21,
t
(105) = − 2.21,
p
 = .029, BF
10
 = 1.787. However, when both number of words and number of two-handed gestures per minute were entered in a single analysis (with participants from the gesture condition), only number of two-handed gestures was a significant predictor of the size of the illusion,
R
2
 = 0.15,
F
(2, 25) = 4.33,
p
 = .018;
β
words
 = − 0.11,
t
(52) = − 0.86,
p
 = .396;
β
two-handed gestures
 = − 0.37,
t
(52) = − 2.84,
p
 = .006. The predictive value of a model with only two-handed gestures as predictor (BF
10
 = 6.544) was better than a model with only speech (BF
10
 = 0.341) or with speech and two-handed gesture (BF
10
 = 2.840). Taken together, these results suggest that speech rate cannot account for the effect of two-handed gestures on recalled heaviness.
Publisher's Note
Springer Nature remains neutral with regard to jurisdictional claims in published maps and institutional affiliations.