01-10-2018 | Original Article | Uitgave 1/2019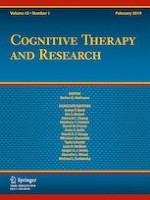 Cognitive Processing and Regulation Modulates Analogue Trauma Symptoms in a Virtual Reality Paradigm
Tijdschrift:
Auteurs:

T. Schweizer, Fritz Renner, Dali Sun, Christian Becker-Asano, Brunna Tuschen-Caffier
Abstract
To date, few studies have examined stress responses during or shortly after potentially traumatic events in real-time. In this study, a prospective Virtual Reality analogue trauma paradigm was used to assess peri- and post-traumatic stress responses in healthy individuals (
N
 = 80). Here we compared a range of peri-traumatic psychophysiological responses following analogue trauma to a control condition. Furthermore, we aimed to identify essential regulatory mechanisms in response to an analogue trauma and their effects on subsequent analogue trauma symptoms. Therefore, we examined the impact of subjective and physiological emotional responses, cognitive processing, cognitive regulation and appraisal as well as flexible emotion regulation on analogue trauma symptoms. Results of the hierarchical multiple regression analyses revealed that cognitive processing as well as cognitive regulation and appraisal predicted analogue trauma symptoms beyond psychophysiological responses, while flexible emotion regulation was uniquely predictive only directly afterwards. The findings provide evidence that flexible emotion regulation might be in particular protective directly after trauma exposure and highlight the general importance of peri- and post-traumatic cognitive factors in the development and maintenance of stress-associated psychopathology, thereby supporting cognitive models of PTSD.