07-07-2015 | Empirical Research | Uitgave 3/2016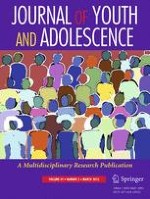 Youth Withdrawal Moderates the Relationhips Between Neighborhood Factors and Internalizing Symptoms in Adolescence
Tijdschrift:
Auteurs:

Jill A. Rabinowitz, Deborah A.G. Drabick, Maureen D. Reynolds
Abstract
Adolescents higher in temperamental withdrawal are at risk for anxiety and depressive symptoms; however, not all youth higher in withdrawal exhibit internalizing symptoms, suggesting that contextual factors may influence these relationships. We examined whether youth withdrawal moderates the relationships between neighborhood processes (crime, social cohesion) and internalizing symptoms and whether findings were consistent with the diathesis-stress or differential susceptibility hypotheses. Participants were 775 adolescents (
M
= 15.50 ± 0.56 years, 72 % male, 76 % White). Adolescents higher in withdrawal manifested higher internalizing symptoms in the context of lower neighborhood crime and lower neighborhood social cohesion than youth lower in withdrawal, supporting diathesis-stress. These findings elucidate neighborhood processes associated with internalizing symptoms, which can inform models of risk and resilience for these symptoms among children who differ in temperamental withdrawal.