01-09-2017 | Onderzoek | Uitgave 9/2017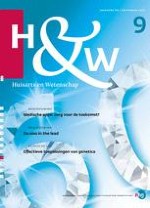 Waarom wordt draaiduizeligheid niet vaker behandeld?
Tijdschrift:
Auteurs:

Vincent van Vugt, Patria Diaz Nerio, Hans van der Wouden, Henriëtte van der Horst, Otto Maarsingh
Belangrijke opmerkingen
VUmc, afdeling Huisartsgeneeskunde en Ouderengeneeskunde, Amsterdam: V.A. van Vugt, aiotho; P.M. Diaz Nerio, huisarts; dr. J.C. van der Wouden, universitair hoofddocent; prof. dr. H.E. van der Horst, hoogleraar huisartsgeneeskunde; dr. O.R. Maarsingh, huisarts-onderzoeker en epidemioloog • Correspondentie: v.vanvugt@vumc.nl •
Samenvatting
Van Vugt VA, Diaz Nerio PM, Van der Wouden JC, Van der Horst HE, Maarsingh OR. Waarom wordt draaiduizeligheid niet vaker behandeld? Huisarts Wet 2017;60(9):436-9.
Achtergrond
Draaiduizeligheid is een vervelende klacht die de dagelijkse activiteiten bemoeilijkt en daardoor voor aanzienlijke economische schade zorgt. Er zijn goedkope, veilige en bewezen effectieve behandelingstechnieken zoals de Epley-manoeuvre en vestibulaire revalidatie, maar veel huisartsen gebruiken die technieken niet. Wij onderzochten in hoeverre Nederlandse huisartsen geneigd zijn deze behandelingen toe te passen en wat de redenen zijn om dat niet te doen.
Methode
In 2012 voerden we een online vragenlijstonderzoek uit waarin we 426 Nederlandse huisartsen vroegen of zij de Epley-manoeuvre, Brandt-Daroff-oefeningen of vestibulaire revalidatie gebruikten bij patiënten met draaiduizeligheid.
Resultaten
Ongeveer de helft van de respondenten gebruikte de Epley-manoeuvre (57,3%) of Brandt-Daroff-oefeningen (50,2%), slechts 6,8% paste vestibulaire revalidatie toe. De meeste respondenten pasten de behandelingen zelf toe, een minderheid van respectievelijk 25,8%, 10,7% en 34,7% verwees voor de behandeling naar een andere zorgverlener. De meest genoemde redenen om de behandelingen niet toe te passen was dat men niet wist hoe ze uitgevoerd moeten worden (respectievelijk 49,5%, 89,6% en 92,4%) of betwijfelde dat ze effect zouden hebben (respectievelijk 29,7%, 11,8% en 6,3%).
Conclusie
Nederlandse huisartsen passen repositiemanoeuvres en vestibulaire revalidatie nog steeds te weinig toe bij patiënten met duizeligheid. Dat huisartsen niet weten hoe ze deze behandelingen moeten uitvoeren, is reden hun kennis en vaardigheden te versterken. Apps en e-healthtoepassingen kunnen daarbij helpen.