01-09-2017 | Beschouwing | Uitgave 9/2017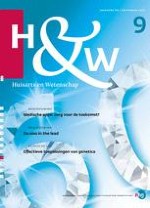 De toekomst van de huisartsgeneeskunde revisited
Tijdschrift:
Auteur:

Chris van Weel
Belangrijke opmerkingen
Radboud Universiteit, Nijmegen: prof.dr. C. van Weel, emeritus hoogleraar huisartsgeneeskunde. Australian National University: prof.dr. C. van Weel, honorary professor of primary health care research • Correspondentie: Chris.vanweel@radboudumc.nl • Mogelijke belangenverstrengeling: niets aangegeven.
Samenvatting
Van Weel C. De toekomst van de huisartsgeneeskunde revisited. Huisarts Wet 2017;60(9):456-9.
Dit artikel houdt een in 2012 gepubliceerde beschouwing over de huisarts van de toekomst tegen het licht van de ontwikkelingen die zich sindsdien in de zorg hebben voltrokken. De uitgangspunten uit 2012 blijken onverminderd te gelden: het individu met een gezondheidsprobleem of -risico en de populatie met zorgbehoeften horen de focus van de gezondheidszorg te zijn. Wel illustreren de recente ontwikkelingen in het gezondheidsbeleid de noodzaak om vanuit de eerste lijn leiderschap te tonen en beleid te richten op de langetermijnbehoeften van het individu en de populatie. Gezien de sleutelrol van de eerste lijn is het aan te bevelen om beleid te baseren op de kernwaarden en competenties van de eerste lijn: integrale zorg, continuïteit en vertrouwensrelatie met patiënten, waarbij gezondheidszorg is verbonden met maatschappelijk welzijn. Dit sluit aan bij internationale ontwikkelingen waarin de kernwaarden in de eerste lijn worden vertaald naar indicatoren voor gezondheidsbeleid.