01-09-2017 | Onderzoek | Uitgave 9/2017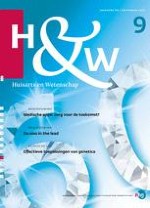 E-diagnostiek voor psychische stoornissen
Tijdschrift:
Auteurs:

Ies Dijksman, Geert Jan Dinant, Mark Spigt
Belangrijke opmerkingen
Maastricht University, CAPHRI School for public health and primary care, Vakgroep Huisartsgeneeskunde, Maastricht: I. Dijksman, psycholoog; prof.dr. G.J. Dinant, hoogleraar Huisartsgeneeskunde; dr. M Spigt, gezondheidswetenschapper (tevens Arctic University of Norway, Tromsø) • Correspondentie: m.spigt@maastrichtuniversity.nl
Dit artikel werd eerder gepubliceerd als: Dijksman I, Dinant GJ, Spigt M. The concurrent validity of a new eDiagnostic system for mental disorders in primary care. Fam Pract 2016;33:607-16. Publicatie gebeurt met toestemming van de uitgever. Gegevens zijn geactualiseerd (zie Methode).
De rest van de literatuur en [tabel 1] en [2] zijn te vinden bij dit artikel op
www.​henw.​org
.
Samenvatting
Dijksman I, Dinant GJ, Spigt M. E-diagnostiek voor psychische stoornissen. Huisarts Wet 2017;60(9):432-5.
Achtergrond
Ter ondersteuning van de huisarts is een e-diagnostieksysteem ontwikkeld voor het classificeren van een mogelijke DSM-IV-stoornis.
Methode
Wij vergeleken de validiteit van het e-diagnostieksysteem door routinematig verzamelde uitslagen van 496 patiënten van Limburgse huisartsenpraktijken te vergelijken met het oordeel van een psycholoog. De interbeoordelaarsbetrouwbaarheid van de vier psychologen werd bepaald aan de hand van honderd aselect geselecteerde dossiers uit een voorgaand onderzoek. We analyseerden de concurrente validiteit van het e-diagnostieksysteem door middel van sensitiviteit, specificiteit, positieve en negatieve voorspellende waarde en Cohens kappa.
Resultaten
De interbeoordelaarsbetrouwbaarheid was voldoende tot goed. Het systeem kon diverse stoornissen correct herkennen, uitsluiten en voorspellen. Het kon de afwezigheid van een as-II-stoornis adequaat bepalen (sensitiviteit en specificiteit 75%) en het gaf het correcte adviezen voor het echelon van behandeling (sensitiviteit 85 tot 92%, specificiteit 96 tot 99%). Het systeem genereerde voor een aantal klinische stoornissen echter veel foutpositieve en foutnegatieve diagnoses en beoordeelde het algemeen functioneren (as V) minder goed.
Conclusie
Het onderzochte e-diagnostieksysteem is in de huisartsenpraktijk een valide screeningsinstrument voor de meeste DSM-IV-classificaties. Het kan de huisarts ondersteunen bij diagnostiek en verwijzing, maar vanwege de kans op een foutpositief of foutnegatief resultaat kan het een klinisch oordeel niet vervangen. Een versie op basis van DSM-5 wordt momenteel gevalideerd.