01-08-2011 | Original Paper | Uitgave 8/2011 Open Access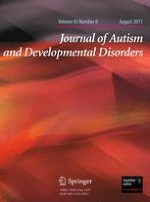 The Ritvo Autism Asperger Diagnostic Scale-Revised (RAADS-R): A Scale to Assist the Diagnosis of Autism Spectrum Disorder in Adults: An International Validation Study
Tijdschrift:
Auteurs:

Riva Ariella Ritvo, Edward R. Ritvo, Donald Guthrie, Max J. Ritvo, Demetra H. Hufnagel, William McMahon, Bruce Tonge, David Mataix-Cols, Amita Jassi, Tony Attwood, Johann Eloff
Abstract
The Ritvo Autism Asperger Diagnostic Scale-Revised (RAADS-R) is a valid and reliable instrument to assist the diagnosis of adults with Autism Spectrum Disorders (ASD). The 80-question scale was administered to 779 subjects (201 ASD and 578 comparisons). All ASD subjects met inclusion criteria: DSM-IV-TR, ADI/ADOS diagnoses and standardized IQ testing. Mean scores for each of the questions and total mean ASD vs. the comparison groups' scores were significantly different (
p
< .0001). Concurrent validity with Constantino Social Responsiveness Scale-Adult = 95.59%. Sensitivity = 97%, specificity = 100%, test–retest reliability
r
= .987. Cronbach alpha coefficients for the subscales and 4 derived factors were good. We conclude that the RAADS-R is a useful adjunct diagnostic tool for adults with ASD.