17-02-2017 | Original Article | Uitgave 4/2017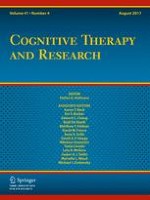 The Cognitive Distortions Questionnaire (CD-Quest): Validation in a Sample of Adults with Social Anxiety Disorder
Tijdschrift:
Auteurs:

Simona C. Kaplan, Amanda S. Morrison, Philippe R. Goldin, Thomas M. Olino, Richard G. Heimberg, James J. Gross
Belangrijke opmerkingen
Portions of this paper were presented at the 2016 meeting of the Anxiety and Depression Association of America, Philadelphia, PA. The authors wish to thank Irismar Reis de Oliveira for his comments on an earlier draft of this paper.
Abstract
Cognitive distortions are thought to be central to the development and maintenance of anxiety disorders and are a widely acknowledged treatment target in cognitive-behavioral interventions. However, little research has focused on the measurement of cognitive distortions. The Cognitive Distortions Questionnaire (CD-Quest; de Oliveira, Trial-based cognitive therapy: A manual for clinicians, Routledge, New York, 2015), a brief, 15-item questionnaire, assesses the frequency and intensity of cognitive distortions. The CD-Quest has been shown to have sound psychometric properties in American, Australian, and Brazilian undergraduate samples and one Turkish-speaking outpatient clinical sample. The current study aimed to provide the first evaluation of the psychometric properties of the English version of the CD-Quest in a clinical sample and the first evaluation of any version of the CD-Quest in a sample of adults diagnosed with social anxiety disorder (SAD). In a sample of treatment-seeking adults with SAD, the CD-Quest demonstrated good convergent validity, discriminant validity, known-groups validity, and treatment sensitivity. It also showed good internal consistency, and both confirmatory and exploratory factor analyses supported the previously reported unitary factor structure. Findings extend prior research indicating the reliability and validity of the CD-Quest.