18-01-2017 | Original Article | Uitgave 4/2017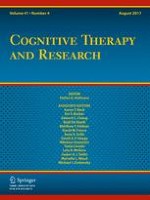 Maternal Parenting and Child Behaviour: An Observational Study of Childhood Social Anxiety Disorder
Tijdschrift:
Auteurs:

Julia Asbrand, Jennifer Hudson, Julian Schmitz, Brunna Tuschen-Caffier
Abstract
Etiological models of social anxiety disorder (SAD) suggest parenting is involved in the development of SAD. However, previous studies have often neglected potential contributions of child behaviour to parenting behaviour. Further, parent–child interaction has often been assessed in artificial laboratory settings thereby impairing ecological validity. Children (aged 9–13 years) with SAD (
n
 = 27) and healthy controls (HC,
n
 = 27) completed a puzzle task with mothers present at home. Parent–child interactions were analysed for parenting (e.g., negativity, involvement) and child behaviour (e.g., dependence, helplessness). Mothers of children with SAD showed more involvement than mothers of HC children. Maternal involvement was related to child dependence in HC dyads only, while maternal negativity was correlated with negative child behaviour in both groups. The study indicates maternal over-involvement in their interactions with children with SAD at home. The lack of relation to child behaviour in SAD dyads points to inflexibility in mother–child interactions.