13-06-2019 | Original Article | Uitgave 11/2019 Open Access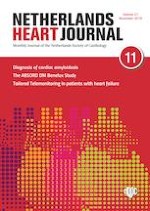 The 1‑year safety and efficacy outcomes of Absorb bioresorbable vascular scaffolds for coronary artery disease treatment in diabetes mellitus patients: the ABSORB DM Benelux study
Tijdschrift:
Auteurs:

T. M. Hommels, R. S. Hermanides, S. Rasoul, B. Berta, A. J. J. IJsselmuiden, G. A. J. Jessurun, E. Benit, B. Pereira, G. De Luca, E. Kedhi
Belangrijke opmerkingen
Electronic supplementary material
Availability of data and materials
The datasets used and/or analysed during the current study are available from the corresponding author, T.M. Hommels, on reasonable request.
Abstract
Background
Diabetes mellitus (DM) patients show higher rates of repeat revascularisation even in the era of modern drug-eluting stents (DES). The concept of bioresorbable scaffolds is becoming captivating, as it might allow for repeat interventions, prolonging the time span during which patients can be treated by percutaneous coronary intervention (PCI).
Aims
We intend to evaluate the short- and long-term safety and efficacy of Absorb bioresorbable vascular scaffolds (Absorb BVS) in the treatment of coronary artery disease (CAD) in DM patients for any indication.
Methods
The ABSORB DM Benelux is an international prospective study in DM patients who have undergone PCI with ≥1 Absorb BVS. Major adverse cardiac events (MACE) at 1 year was the primary endpoint, defined as a composite of all-cause death, any myocardial infarction (MI) and ischaemia-driven target vessel revascularisation (TVR). Secondary endpoints were target lesion failure (TLF) and definite or probable scaffold thrombosis (ScT).
Results
Between April 2015 and March 2017, 150 DM patients and 188 non-complex lesions were treated. Device implantation was successful in 100%. MACE occurred in 14 (9.5%) patients, with all-cause death occurring in 4 (2.7%), any MI in 6 (4.1%) and ischaemia-driven TVR in 7 (4.8%) respectively. TLF was reported in 11 (7.5%). Definite and probable ScT was observed in 2 (1.4%).
Conclusion
Absorb BVS for treatment of anatomically low-risk patients with DM show acceptable safety and efficacy outcomes at 1 year. If these promising results are confirmed after a longer follow-up period, new-generation bioresorbable scaffolds combined with refinement of implantation techniques might open new horizons for CAD treatment in DM patients.