15-06-2020 | Original Article | Uitgave 5/2020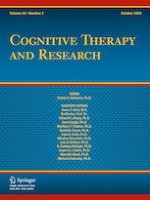 Standards for Socially-and Achievement-Oriented Roles in Major Depressive Disorder and Generalized Anxiety Disorder
Tijdschrift:
Auteurs:

Renee J. Thompson, Jenna B. Borenstein, Katharina Kircanski, Ian H. Gotlib
Belangrijke opmerkingen
Publisher's Note
Springer Nature remains neutral with regard to jurisdictional claims in published maps and institutional affiliations.
Abstract
Background
People with major depressive disorder (MDD) and generalized anxiety disorder (GAD) have elevated trait perfectionism. We tested whether they hold perfectionistic standards for specific life roles and examined the extent to which they met their own expectations for, gained satisfaction from, and expended effort in these roles.
Methods
Seventy-four women with MDD, GAD, both disorders, or no mental disorders (CTL) described their standards for a socially-and achievement-oriented roles, coded for perfectionism. Using ecological momentary assessment, participants reported the extent to which they met, how much satisfaction they gained from, and how much effort they expended in each role.
Results
Although the clinical groups endorsed elevated trait perfectionism, they did not differ from CTLs in their role-specific standards. Compared to CTLs, the clinical groups reported meeting their standards to a lesser extent and receiving less satisfaction from both roles. The two MDD groups reported expending less effort in achievement-oriented, but not socially-oriented, roles than the other two groups.
Conclusion
Despite similar standards for socially- and achievement-oriented roles, people with MDD and/or GAD are less likely to meet their standards and gain satisfaction from these roles. Having MDD, independent of GAD, is associated with putting less effort into achievement-oriented roles.