21-03-2020 | Original Article | Uitgave 5/2020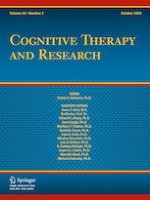 Improving Mental Time Travel in Schizophrenia: Do Remembering the Past and Imagining the Future Make a Difference?
Tijdschrift:
Auteurs:

Gui-fang Chen, Huan-yue Luo, Gang Wu, Cao Zhou, Kui Wang, Kun Feng, Zhi-wen Xiao, Jing-jing Huang, Jie-chun Gan, Ping Zhao, Po-Zi Liu, Ya Wang
Belangrijke opmerkingen
Electronic supplementary material
Gui-fang Chen, Huan-yue Luo, and Gang Wu have contributed equally to this work.
Publisher's Note
Springer Nature remains neutral with regard to jurisdictional claims in published maps and institutional affiliations.
Abstract
Background
Mental time travel (MTT) refers to the ability to project oneself into the past to re-experience past events or into the future to pre-experience future events. This ability plays an important role in daily life. MTT is severely impaired in patients with schizophrenia (SZ). Studies have shown that life review therapy (LRT, remembering the past) could improve MTT ability in SZ. However, whether training to imagine the future can improve MTT and whether the combined training to remember the past and imagine the future can improve MTT to a larger degree remain unknown. The present study aimed to examine these issues.
Methods
Eighty patients with SZ were randomly assigned to the remembering training group (SZ-re-training), future imagining training group (SZ-im-training), combined remembering and future imagining training group (SZ-re-im-training), or control group (SZ-control). All SZ-training groups received 8 training sessions over four weeks. MTT ability, emotion, life satisfaction, cognitive functions and clinical symptoms were assessed before and after training. Twenty-one matched healthy controls were also recruited and completed the baseline assessment.
Results
The results showed that the specificity of MTT in all SZ-training groups was higher than that in the SZ-control group after training; there was no significant difference among the three training groups. The SZ-training group also showed significant improvement in clinical symptoms and other cognitive functions, such as verbal and visual memory, whereas the SZ-control group did not.
Conclusions
These results suggest that all three training methods improved the MTT ability of SZ patients to a similar degree and support the constructive episodic simulation hypothesis.
The trial registration number of this study is ChiCTR-INR-17014096 and the date of registration is Dec 22, 2017.