01-03-2013 | Empirical Research | Uitgave 3/2013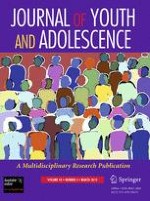 Sexual Minority-Related Victimization as a Mediator of Mental Health Disparities in Sexual Minority Youth: A Longitudinal Analysis
Tijdschrift:
Auteurs:

Chad M. Burton, Michael P. Marshal, Deena J. Chisolm, Gina S. Sucato, Mark S. Friedman
Belangrijke opmerkingen
All authors made significant contributions to the research presented in this article.
Abstract
Sexual minority youth (youth who are attracted to the same sex or endorse a gay/lesbian/bisexual identity) report significantly higher rates of depression and suicidality than heterosexual youth. The minority stress hypothesis contends that the stigma and discrimination experienced by sexual minority youth create a hostile social environment that can lead to chronic stress and mental health problems. The present study used longitudinal mediation models to directly test sexual minority-specific victimization as a potential explanatory mechanism of the mental health disparities of sexual minority youth. One hundred ninety-seven adolescents (14–19 years old; 70 % female; 29 % sexual minority) completed measures of sexual minority-specific victimization, depressive symptoms, and suicidality at two time points 6 months apart. Compared to heterosexual youth, sexual minority youth reported higher levels of sexual minority-specific victimization, depressive symptoms, and suicidality. Sexual minority-specific victimization significantly mediated the effect of sexual minority status on depressive symptoms and suicidality. The results support the minority stress hypothesis that targeted harassment and victimization are partly responsible for the higher levels of depressive symptoms and suicidality found in sexual minority youth. This research lends support to public policy initiatives that reduce bullying and hate crimes because reducing victimization can have a significant impact on the health and well-being of sexual minority youth.