19-08-2020 | ORIGINAL PAPER | Uitgave 11/2020 Open Access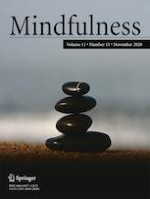 Self-compassion and Perceived Criticism in Adults with Attention Deficit Hyperactivity Disorder (ADHD)
Tijdschrift:
Auteurs:

Danielle M. Beaton, Fuschia Sirois, Elizabeth Milne
Belangrijke opmerkingen
Publisher's Note
Springer Nature remains neutral with regard to jurisdictional claims in published maps and institutional affiliations.
Abstract
Objectives
Attention deficit hyperactivity disorder (ADHD) is associated with increased criticism from others. To date, there is little research considering the consequences of how others respond to people with ADHD. Self-compassion is a positive way of relating to oneself during difficulty. Here, we investigate whether levels of self-compassion differ between people with and without ADHD, and whether perceived criticism mediates any differences in self-compassion between people with and without ADHD.
Methods
A cross-sectional design was used to conduct natural group comparisons. A sample of 1203 adults (46% with a self-reported ADHD diagnosis) recruited via social media, online forums and posters completed online self-report measures of diagnostic status, ADHD traits, self-compassion and perceived criticism. Between-group comparisons of self-compassion and perceived criticism were conducted on participants grouped by diagnosis, then grouped by ADHD trait severity. Perceived criticism was tested as a mediator variable between ADHD diagnosis and self-compassion.
Results
Adults with an ADHD diagnosis showed significantly lower self-compassion and higher perceived criticism than the participants without ADHD. Participants high in ADHD traits but without a diagnosis had significantly similar levels of self-compassion to the diagnosed group. Mediation analysis found that higher perceived criticism partially explained the relationship between ADHD diagnosis and self-compassion, even after accounting for co-occurring mood disorder diagnosis.
Conclusions
Adults with ADHD are less self-compassionate than adults without ADHD. This is partially explained by the higher level of criticism they perceive from others.