04-08-2020 | ORIGINAL PAPER | Uitgave 11/2020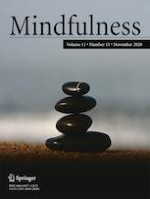 Feasibility and Effectiveness of a Mindfulness-Based Program Vs. Relaxation in the Treatment of Burnout in Brazilian Primary Care Providers: a Mixed-Methods Pragmatic Controlled Study
Tijdschrift:
Auteurs:

Daniela Sopezki, Solange Andreoni, Jesus Montero-Marin, Eno Dias de Castro Filho, Sandra Fortes, Gioconda Grandi de Lima, Leandro Pizutti, Áthila Campos Girão, Tânia Fernandes Silva, Javier García-Campayo, Marcelo Demarzo
Belangrijke opmerkingen
Electronic supplementary material
Publisher's Note
Springer Nature remains neutral with regard to jurisdictional claims in published maps and institutional affiliations.
Abstract
Objectives
Mindfulness-based programs (MBPs) have been tested as promising alternatives for managing stress in Primary health care (PHC) providers. The study compared the feasibility and efficacy of an MBP on burnout symptoms in Brazilian PHC providers with a briefer relaxation-based program and with a nonactive control group.
Methods
A nonrandomized controlled trial was conducted with mixed-methods evaluation on self-reported symptoms of burnout, and positive and negative affection, mindfulness, self-compassion, decentering, and rumination. The MBP arm (MF) (
n
 = 62) consisted of eight mindfulness sessions, the relaxation arm (RE) (
n
 = 35) attended four relaxation sessions, and the control arm (CO) (
n
 = 45) comprised a waitlist group.
Results
The reduction in exhaustion was significantly higher in MF compared with CO (
d
 = − 0.58;
p
 = 0.020), and in RE compared with CO (
d
 = − 0.63;
p
 = 0.017). MF was significantly superior to CO for reducing cynicism (
d
 = − 0.48;
p
 = 0.024). There was also significant superiority of MF compared with CO in positive and negative affect, observing, describing, nonreacting, mindfulness, identification, and rumination. MF and RE were significantly superior to CO for reducing criticism and isolation. Finally, MF was significantly superior to RE and CO for improving nonjudging, self-kindness, and decentering.
Conclusions
Mindfulness and relaxation may be efficacious in addressing burnout symptoms in PHC providers, probably with synergistic effects and distinct mechanisms of action. Further studies with a randomized design and larger sample sizes should be performed to confirm these preliminary data and to test whether a mix of mindfulness and relaxation techniques would be more effective than either program on its own.