01-04-2015 | Original Paper | Uitgave 4/2015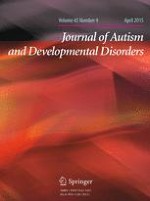 New Interview and Observation Measures of the Broader Autism Phenotype: Group Differentiation
Tijdschrift:
Auteurs:

Maretha de Jonge, Jeremy Parr, Michael Rutter, Simon Wallace, Chantal Kemner, Anthony Bailey, Herman van Engeland, Andrew Pickles
Belangrijke opmerkingen
Electronic supplementary material
The online version of this article (doi:
10.​1007/​s10803-014-2230-7
) contains supplementary material, which is available to authorized users.
The Following IMGSAC Members Contributed to this Publication
Dr Kerstin Wittemeyer, University of Oxford Department of Psychiatry; Professor Patrick Bolton, Institute of Psychiatry, King's College London, UK; Professor Ann Le Couteur, Professor Helen McConachie Institute of Health and Society, Newcastle University, UK; Professor Jonathan Green, Academic Department of Child Psychiatry, University of Manchester, Manchester, UK; Dr Lennart Pedersen, Dr Torben Isager, Center for Autisme, Denmark; Professor Bernadette Roge, Carine Mantoulan, Centre d'Etudes et de Recherches en Psychopathologie, Toulouse, France; Professor Fritz Poustka, Department of Child and Adolescent Psychiatry, Psychosomatics and Psychotherapy, J.W. Goethe University Frankfurt, Germany; Professor Sven Bolte, Department of Women's and Children's Health, Karolinska Institutet, Stockholm, Sweden; Ms. Margreet Scherpenisse, Ms. Karlijn Steggehuis Department of child and adolescent psychiatry, Rudolf Magnus Institute of Neuroscience, University Medical Center, Utrecht, the Netherlands.
Abstract
To identify the broader autism phenotype (BAP), the Family History Interview subject and informant versions and an observational tool (Impression of Interviewee), were developed. This study investigated whether the instruments differentiated between parents of children with autism, and parents of children with Down syndrome (DS). The BAP scores of parents of 28 multiplex autism families were compared with parents from, 32 DS families. The BAP measures provided good group differentiation but when considered together, the subject interview did not improve group differentiation. The differentiation was better for fathers than mothers. The measures do carry an important degree of validity; whether they can differentiate the BAP from other social disorders should be tested.