01-06-2014 | ORIGINAL PAPER | Uitgave 3/2014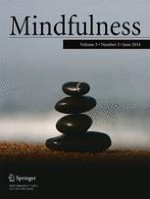 Mindfulness-Based Eating Awareness Training (MB-EAT) for Binge Eating: A Randomized Clinical Trial
Tijdschrift:
Auteurs:

Jean Kristeller, Ruth Q. Wolever, Virgil Sheets
Abstract
Binge eating is characterized by significant imbalance in food intake regulation and is often comorbid with obesity and depression. Mindfulness-based approaches may reduce compulsive overeating, address associated behavioral and emotional dysregulation, and promote internalization of change. This randomized trial explored the efficacy of Mindfulness-Based Eating Awareness Training (MB-EAT), a 12-session group treatment, in comparison to a psychoeducational/cognitive–behavioral intervention (PECB) and a wait list control. MB-EAT incorporates sitting and guided mindfulness practices to cultivate greater awareness of hunger and fullness cues, sensory-specific satiety, and emotional and other triggers for eating. The two-site study randomized 150 overweight or obese (body mass index = 40.3) individuals (12 % men; 14 % African-American/Hispanic; average age = 46.6 years), 66 % of whom met the full DSM-IV-R criteria for binge eating disorder (BED). Compared to the wait list control, MB-EAT and PECB showed generally comparable improvement after 1 and 4 months post-intervention on binge days per month, the Binge Eating Scale, and depression. At 4 months post-intervention, 95 % of those individuals with BED in MB-EAT no longer met the BED criteria vs. 76 % receiving PECB; furthermore, binges that occurred were likely to be significantly smaller. Amount of mindfulness practice predicted improvement on a range of variables, including weight loss (
r
 = −0.38,
p
 < 0.05). Results suggest that MB-EAT decreased binge eating and related symptoms at a clinically meaningful level, with improvement related to the degree of mindfulness practice.