01-06-2014 | ORIGINAL PAPER | Uitgave 3/2014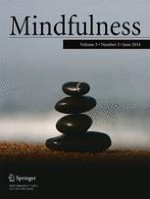 Mindfulness-Based Cognitive Therapy for Mental Health Professionals: a Long-Term Quantitative Follow-up Study
Tijdschrift:
Auteurs:

Nicole de Zoysa, Florian A. Ruths, James Walsh, Jane Hutton
Abstract
The authors investigated whether the psychological benefits and meditation practice identified 3 months after attending a mindfulness-based cognitive therapy (MBCT) programme were maintained in a group of mental health professionals at 18 months follow-up. Of the 23 participants who attended the original MBCT programme, 18 agreed to participate. A repeated measures design was employed with the following measures taken: mindfulness; psychological well-being; life satisfaction; trait worry; trait and state anxiety; and an index of weekly meditation practice. A measure of life events and perceived stress was also included. Participants (
N
 = 10) who provided data at each of the three time points—baseline, 3 months follow-up and 18 months follow-up—were included in the repeated measures ANOVAs. Compared to baseline, a significant improvement in levels of mindfulness, trait anxiety and trait worry was noted at 18 months follow-up. Three quarters of the current sample maintained some form of meditation practice although weekly amounts of meditation practice were found to be unrelated to psychological well-being. Contrary to prediction, life events and related levels of perceived stress correlated positively with levels of mindfulness. Attending a MBCT group as a mental health professional appears to have a positive impact on psychological well-being and ongoing meditation practice which persists long after the end of the intervention. Reasons for a lack of association between length of weekly practice and psychological well-being, as well as the positive relationship between perceived stress and mindfulness, are discussed.