01-06-2014 | ORIGINAL PAPER | Uitgave 3/2014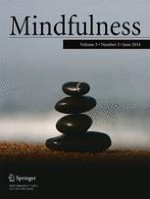 Exploring the Relationship Between Mindfulness and Cardiac Perception
Tijdschrift:
Auteurs:

Lucy Parkin, Ruth Morgan, Anna Rosselli, Maxine Howard, Alicia Sheppard, Davy Evans, Amy Hawkins, Mabel Martinelli, Ann-Marie Golden, Tim Dalgleish, Barnaby Dunn
Abstract
Four studies examined the relationship between mindfulness and interoception (measured via cardiac perception). Studies 1 and 2 compared participants undergoing week long practice (15 m daily) of an audiotaped body-scan, relative to a sound-scan and no-intervention control condition (
n
 = 20 per group). No significant differences in change in cardiac perception accuracy, confidence in cardiac accuracy judgements or the correlation between them (coherence) were found between conditions. Study 3 used an open design to examine the effects of a more intensive meditation training (completing an 8-week MBSR or MBCT course;
n
 = 19). Cardiac perception accuracy and coherence did not improve, but participants became significantly more confident. Study 4 examined the relationship between cardiac perception and trait mindfulness (
n
 = 165). Trait mindfulness did not relate to cardiac perception accuracy, but more mindful individuals were more confident. Mindful observation was associated with reduced, whereas other components of mindfulness predicted superior, coherence. These findings suggest that mindfulness practice does not simply work by improving cardiac perception accuracy but does increase confidence. However, it remains possible that mindfulness increases perceptual accuracy of other bodily systems, which needs to be explored using a wider array of experimental measures (e.g. respiratory awareness) in future research.