01-08-2010 | Uitgave 6/2010 Open Access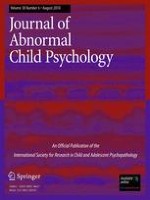 Latent Class Analysis of Antisocial Behavior: Interaction of Serotonin Transporter Genotype and Maltreatment
Tijdschrift:
Auteurs:

James J. Li, Steve S. Lee
Belangrijke opmerkingen
This work was supported by the Consortium for Neuropsychiatric Phenomics (NIH Roadmap for Medical Research grants UL1-DE019580, RL1DA024853).
Abstract
To improve understanding about genetic and environmental influences on antisocial behavior (ASB), we tested the association of the 44-base pair polymorphism of the serotonin transporter gene (5-HTTLPR) and maltreatment using latent class analysis in 2,488 boys and girls from Wave 1 of the National Longitudinal Study of Adolescent Health. In boys, ASB was defined by three classes (Exclusive Covert, Mixed Covert and Overt, and No Problems) whereas in girls, ASB was defined by two classes (Exclusive Covert, No Problems). In boys, 5-HTTLPR and maltreatment were not significantly related to ASB. However, in girls, maltreatment, but not 5-HTTLPR, was significantly associated with ASB. A significant interaction between 5-HTTLPR and maltreatment was also observed, where maltreated girls homozygous for the short allele were 12 times more likely to be classified in the Exclusive Covert group than in the No Problems group. Structural differences in the latent structure of ASB at Wave 2 and Wave 3 prevented repeat LCA modeling. However, using counts of ASB, 5-HTTLPR, maltreatment, and its interaction were unrelated to overt and covert ASB at Wave 2 and only maltreatment was related to covert ASB at Wave 3. We discuss these findings within the context of sex differences in ASB and relevant models of gene-environment interplay across developmental periods.