01-04-2011 | Uitgave 2/2011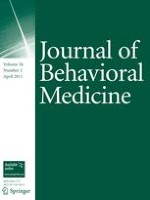 Impact of psychotherapy on insomnia symptoms in patients with depression and multiple sclerosis
Tijdschrift:
Auteurs:

Kelly Glazer Baron, Marya Corden, Ling Jin, David C. Mohr
Abstract
The purpose of the study was to evaluate the prevalence of insomnia in multiple sclerosis patients with comorbid depression, associations between psychological symptoms, multiple sclerosis symptoms and insomnia, and to test effects of a 16-week protocol-based psychotherapy intervention for depression on insomnia symptoms. Participants with multiple sclerosis and depression (
n
= 127) were randomized to telephone administered cognitive behavioral therapy and telephone administered supportive emotion-focused therapy. Multiple sclerosis functional limitation was measured at baseline. Depression, insomnia, anxiety and quality of life were evaluated at pre treatment, mid treatment (8 weeks), and post treatment (16 weeks). Prevalence of insomnia ≥3 times per week was 78% at pre treatment and 43% at post treatment. Insomnia at baseline was associated with depression, multiple sclerosis related mood symptoms and anxiety. Middle of the night awakenings were associated with swallowing and speech problems. Improvements in insomnia were associated with improvement in depression and anxiety. Participants with residual insomnia were more likely to have major depressive disorder, greater multiple sclerosis severity, elevated anxiety and lower mental components of quality of life. Results demonstrate rates of insomnia in patients with comorbid multiple sclerosis and depression are higher than those reported in the general multiple sclerosis population and additional insomnia treatment is indicated beyond the treatment of comorbid psychological disorders.