01-01-2015 | Artikelen | Uitgave 1/2015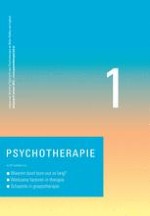 Het geheim van de smid
Visie van de behandelaar in de ggz op werkzame factoren in therapie
Tijdschrift:
Auteurs:

Yael Meijer, Else de Haan
Belangrijke opmerkingen
drs. y.n. meijer
, klinisch psycholoog, is werkzaam bij Praktische GGZ te Zoetermeer, Fier te Leeuwarden en het Amsterdams Centrum voor Familietherapie.
prof. dr. e. de haan
, psychotherapeut, is werkzaam bij de Universiteit van Amsterdam en De Bascule en is bijzonder hoogleraar cognitieve gedragstherapie bij kinderen en adolescenten aan de Universiteit van Amsterdam.
Samenvatting
De discussie over de werkzame factoren van een behandeling is binnen wetenschap en maatschappij niet nieuw. Opvallend is echter, dat de behandelaar zelf nauwelijks in deze discussie betrokken wordt, terwijl deze juist degene is die invloed heeft op diverse werkzame factoren. Dit onderzoek richt zich op behandelaren en hun visie op de werkzame factoren binnen de eigen behandelingen. Er namen meer dan driehonderd behandelaren deel aan het onderzoek. Bekeken werd wat hun visie was, of zij handelden naar hun visie en of achtergrondkenmerken van invloed waren op deze visie. Tot slot werd er gekeken in welke mate de visie van de behandelaren over werkzame factoren overeenkomt met de bevindingen van wetenschappelijk onderzoek. Uit de resultaten blijkt dat behandelaren de behandelrelatie als meest belangrijke werkzame factor beoordelen. Effectmeting, een belangrijk aspect van
Routine Outcome Monitoring
, wordt nauwelijks genoemd. Er blijkt weinig verschil in visie tussen behandelaren en deze komt grotendeels overeen met de huidige stand van zaken binnen de wetenschap. De kloof is echter nog niet geheel gedicht. Behandelaren blijken de waarde van metingen (en het effect ervan op de behandeluitkomst) onvoldoende te onderkennen. Op dat vlak valt nog een wereld te winnen.