11-04-2017 | Uitgave 2/2017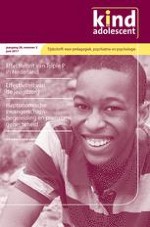 Haptonomische zwangerschapsbegeleiding en de prenatale gehechtheid van ouders aan hun kind
Een effectstudie onder vaders en moeders
Tijdschrift:
Auteurs:

MSc M. T. F. Pollmann, Dr. P. J. Hoffenaar
Samenvatting
Inleiding
In een quasi-experimenteel design met een voor- en nameting en een interventie- (
n
= 46) en een controlegroep (
n
= 38) is onderzocht of haptonomische zwangerschapsbegeleiding (HZB) meerwaarde heeft voor het bevorderen van prenatale gehechtheid ten opzichte van andere vormen van of geen zwangerschapsbegeleiding.
Methode
Vragenlijsten (MAAS/PAAS, MFAS) en een beeldrepresentatie betreffende de gevoelsmatige afstand tussen ouder en ongeboren kind (PRAM) werden ingevuld op 20 en 35 weken zwangerschap.
Resultaten
De resultaten lieten in beide groepen een nagenoeg gelijke toename van de prenatale gehechtheid zien.
Conclusie
Prenatale gehechtheid neemt toe ongeacht óf men begeleiding krijgt en zo ja, welke. Aanvullend onderzoek of HZB prenatale gehechtheid kan bevorderen bij moeders met een risico op verminderde prenatale gehechtheid lijkt gerechtvaardigd op basis van de theoretisch goed onderbouwde werkzame elementen van de begeleiding.