28-08-2017 | Original Paper | Uitgave 12/2017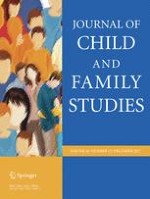 Gender Differences in Single Parents' Living Arrangements and Child Care Time
Tijdschrift:
Auteurs:

Yoonjoo Lee, Sandra L. Hofferth
Abstract
Although seemingly identical in their circumstances, research has found single fathers to engage less in child care than single mothers. Guided by both a structuralist and a "doing gender" perspective, we examine gender differences in single parents' child care time and whether the presence and gender of coresident adult kin moderate this association. Our sample drawn from the 2003–2013 American Time Use Survey (
N
 = 10,985) consists of non-cohabiting single parents aged 18 to 64 who live with at least one own child under age 18. We first found that single fathers spent slightly less time in all types of child care except play than single mothers. Either coresident adult female kin or adult male kin, or both predicted single parents' spending less time in child care activities, particularly management. Living only with adult male kin also predicted single parents' lower time spent in teaching. Lastly, gender differences in single parents' child care time were larger in any child care, play, and teaching when living with both adult female kin and male kin than when living without any kin. The presence of both female kin and male kin may relieve the parent of tasks gender-appropriate to the related household members. Additional research about the contexts of gender differences in single parents' child care enriches our understanding of parenting by men and women.