28-07-2017 | Original Paper | Uitgave 12/2017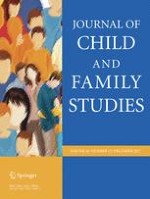 Children's Post-Divorce Living Arrangements and School Engagement: Financial Resources, Parent–Child Relationship, Selectivity and Stress
Tijdschrift:
Auteurs:

Nele Havermans, Sofie Vanassche, Koen Matthijs
Abstract
Children's post-divorce living arrangements have become increasingly heterogeneous the past decades, because of the rise in shared residence and stepfamily formation. This study investigates how post-divorce living arrangements (i.e. the combination between residential arrangement and stepparent presence) are related to children's school engagement. The focus is put on different explanations of the relation between living arrangements and school engagement, namely financial resources, parent–child relationship, selectivity and stress. Structural equation models are performed on a sample of children with divorced parents from the Leuven Adolescent and Family Study data 2008–2011 (
n
 = 1630). First, the results show that stepfamilies have higher financial resources than single-parent families, but these higher financial resources are not directly related to children's school engagement. Second, parent–child relationship is an important mediator between post-divorce living arrangements and school engagement. The results suggest that shared residence is related to a better fatherchild relationship and in this manner improves school engagement. The relation between stepparent presence and the parent–child relationship is less straightforward, and the findings suggest that the combination of residential arrangement, stepfather and stepmother presence should be taken into account. Third, children's sociodemographic characteristics, time since divorce and level of pre-divorce conflict function as selection mechanisms, as they are related to both post-divorce living arrangements and children's school engagement. Finally, the findings indicate that the complexity of multiple part-time residential figures is stressful to children. This may partially counterbalance the benefits of such systems, via the better parent–child relationship and the higher financial resources.