24-08-2016 | Original Paper | Uitgave 12/2016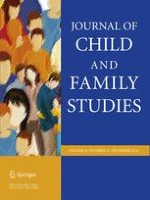 Expressed Emotion in Mothers of School-Age Children: Relations to Maternal Maltreatment and Parenting Behavior
Tijdschrift:
Auteurs:

Hannah M. Rea, Anne Shaffer
Abstract
The five-minute speech sample is an indirect measure of familial emotional climate, measuring the degree of criticism and/or emotional over-involvement a parent displays while describing a child. Originally developed for parents of adult children with chronic mental illness, the five-minute speech sample has more recently been used among parents of younger children, with inconsistent results. The first aim was to investigate the five-minute speech sample as a measure of parenting perceptions for nonclinical youth by analyzing relations of criticism and emotional over-involvement with self-reported and observed measures of parenting behavior in a diverse community sample of mothers (
N
 = 64) with school-age children (
M
age
 = 9.48). Self-reported emotion socialization behaviors and observed parenting practices were correlated with criticism and emotional over-involvement ratings. The second aim was to analyze criticism and emotional over-involvement as mediators in a relationship between a mother's history of maltreatment and her parenting behaviors. Findings indicated that criticism and emotional over-involvement are related to observed and self-reported parenting behaviors, though emotional over-involvement appears to be an aspect of positive parenting in this youth sample. All subtypes of maltreatment were correlated with significantly less emotionally supportive behaviors, but not with more unsupportive behaviors. Higher levels of emotional over-involvement significantly mediated the relationship between a history of sexual abuse and supportive and unsupportive parenting practices.