01-07-2008 | Original Article | Uitgave 4/2008 Open Access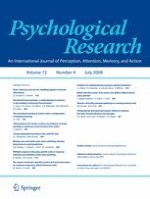 Evidence for attentional processing in spatial localization
Tijdschrift:
Auteurs:

Jos J. Adam, Eddy J. Davelaar, Annoek van der Gouw, Paul Willems
Introduction
We hypothesized that if localization depends on the allocation of visual attention, allocating attention to the distractor for identification should delay its availability for localization of the target, and thus localization performance should suffer. However, once the distractor has been identified, attention is free to move to the target for localization, and the interference effect should diminish or disappear. We also varied the number of to-be-identified distractors. We hypothesized that increasing the number of distractors should lead to longer time periods during which attention is engaged by the distractors for their identification and thus not available for localization of the target. Therefore, we expected greater and longer lasting localization performance decrements with increasing distractor load.
Method
Participants and design
Thirty participants were randomly assigned to one of three conditions in a 2 × 8 × 3 mixed factorial design, crossing the within-subject factors task (single vs. dual) and target stimulus duration (29, 57, 86, 114, 143, 200, 300 or 400 ms) and the between-subject factor distractor load (1, 2, or 3 digits). Thus, there were three different groups of each 10 subjects (1-distractor group; 2-distractor group, and 3-distractor group), with each group performing the same single-task condition (localization of the peripheral target stimulus with eight target duration conditions) but a different dual-task condition (either 1, 2, or 3 to-be-identified distractor items).
Procedure
All participants performed a visual localization task in two conditions (single- and dual-task). In the single-task condition, participants localized a peripherally presented target stimulus. In the dual-task condition, participants performed two perceptual tasks: identification and localization. Thus, in the dual-task condition there were two simultaneously presented visual stimuli: a distractor stimulus (containing 1, 2, or 3 digits) presented at fixation, which had to be identified; and a target stimulus (a single "*" sign) presented peripherally to the left or right of fixation, which had to be localized. After a variable delay that varied between 29 and 400 ms, the target stimulus (but not the distractor stimulus) was followed by a backward masking stimulus that eliminated its visibility.
At the beginning of each trial in the single task condition (localization only), a fixation sign ('+') appeared in the center of the screen (Fig.
1
). After 1,000 ms the target stimulus ('*') was presented at one of 50 possible stimulus locations on an imaginary horizontal row on either side of the fixation sign (25 stimulus locations to the left and 25 to the right). After a variable delay (target-mask onset delay) a masking stimulus was presented to control the visibility of the target stimulus. The masking stimulus consisted of two horizontal strings of each 29 '*' signs covering all possible target locations on the left and right of fixation (plus four extra, non-target positions). The masking stimulus remained present throughout the remainder of the trial. Eight target-mask onset asynchronies or target durations were employed: 29, 57, 86, 114, 143, 200, 300, and 400 ms. The participants' task was to indicate the location of the target stimulus as accurately as possible by moving the cursor (a rectangle) from the fixation sign to the observed position of the target stimulus. Movement of the cursor was realized by manipulating the cursor keys on the keyboard with the index and ring fingers of the right hand. When subjects reached the perceived target location they confirmed their response by pressing the space bar with their left hand. No feedback was provided. An intertrial interval of 1.5 s separated the final response in one trial from the start of the next trial. Participants were instructed to fixate their eyes on the fixation sign at the beginning of each trial, but were told that they were free to make eye movements toward the target.
×
In the dual-task condition there was, in addition to the target stimulus, a briefly (i.e., 29 ms) presented distractor stimulus which had to be identified. Depending on the distractor load, the distractor stimulus contained 1, 2, or 3 digits, which were simultaneously presented and always different from each other. The experimenter wrote down the participant's verbal response, which was later entered in the computer and analyzed for correctness. The digits were randomly drawn from the set 0, 1, 2, 3, 4, 5, 6, 7, 8, 9 on condition that each number appeared 5 times in a set of 50 test trials.
Participants completed two sessions on separate days. In each session, participants received a series of 50 experimental trials (1 for each of the 50 possible target locations) in each of the eight stimulus durations under either single-task or dual-task condition. Order of task condition between days was counterbalanced. Order of target duration within a day was random. Each series of 50 test trials was preceded by 10 practice trials. In order to asses the effect of retinal eccentricity on localization performance, we established 5 global distances between fixation point and target location by subdividing the 25 possible target locations on each side of fixation into 5 groups of each 5 adjacent target locations. These five distance groups (1, 2, 3, 4, 5) had increasing distances from fixation, namely 1.72, 3.15, 4.58, 6.02, and 7.45° of visual angle, respectively (these values represent the center position within each distance group). The target stimulus, distractor stimulus, and the fixation sign each subtended a visual angle of about 0.23 × 0.29°. The distance between two adjacent target positions was 0.29° of visual angle. Viewing distance was about 60 cm.
Results and discussion
Performance in the identification task was near-perfect. All (but one) participants succeeded in correctly identifying all the elements of the distractor stimulus in at least 95% of the trials. That is, only one participant (in the 1-distractor group) made too many errors of identification (i.e., on 29% of the trials); the data of this participant were excluded from all further analyses. Mean percentage correct identifications of the remaining 29 participants was 98.1% (1-distractor group = 98.6%; 2-distractor group = 99.0%; 3-distractor group = 96.6%). Estimates of localization performance were based solely on those trials in which the distractor stimulus had been identified correctly. Hence, we can assume that in the dual-task condition visual attention was first applied to the central distractor stimulus for identification before it was allocated to the target stimulus for localization.
We first analyzed the effect of target duration and target distance on localization performance in the single-task condition. This initial analysis forms the baseline to which the effect of distractor and number of distractors can be compared.
Conclusion
The present study demonstrated that when attention is preoccupied with identifying a distractor stimulus, localization of a target stimulus suffers a cost that depends on the number of items in the distractor stimulus. This finding has two important implications. First, it demonstrates that visual attention is critical in spatial localization during the first 100 ms and speeds up localization thereafter. Second, it indicates a strong interdependency between identification and localization, suggesting that attention is allocated at very early stages of visual processing.
Footnotes
1
One reviewer was concerned about the possibility of a SNARC effect (e.g., Fischer, Castel, Dodd, & Pratt,
2003
), in which small and large numbers induce a spatial attention bias towards the left and right visual field, respectively. We tested this possibility in a 3-way ANOVA crossing the magnitude of the distractor number in the 1-item distractor group (1, 2 vs. 8, 9), target-side (left vs. right of fixation), and target duration. No interactions with magnitude of the distractor number were found (all
p
s > 0.75), indicating that number-based attention shifts are not automatic (see also, Galfano, Rusconi, & Umiltà,
2006
).
2
A 2 (single- vs. dual-task condition) × 3 (distractor load: 1, 2, and 3 to-be-identified distractor items) × 3 (stimulus duration: 29, 57, and 86 ms) ANOVA revealed a significant 3-way interaction,
F
(4, 52) = 3.04,
p
< 0.05, in the critical time range of target-mask-onset delays shorter than 100 ms, during which attention but not eye movements can be active. Planned one-tailed t-tests showed that the presence of 1 distractor caused interference only at the shortest delay of 29 ms (
p
< 0.001), the presence of 2 distractors caused interference over the two shortest delays spanning 57 ms (
p
s < 0.05), and the presence of 3 distractors caused interference over the three shortest delays spanning 86 ms (
p
s < 0.01). Because eye movements are not possible with these short target durations, it can be inferred that the distractor(s) affected attentional processes.