01-12-2013 | Brief Report | Uitgave 6/2013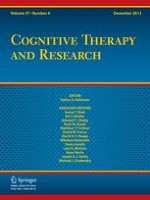 Enhancement of False Memory for Negative Material in Dysphoria: Mood Congruency or Response Bias?
Tijdschrift:
Auteurs:

Jonathan N. Stea, Sharon M. Lee, Christopher R. Sears
Abstract
Although there is an extensive literature on the effects of depression and dysphoria on memory accuracy, few studies have examined the effects of depression or dysphoria on false memory. This study used the Deese-Roediger-McDermott paradigm (Roediger and McDermott in J Exp Psychol Learn Mem Cogn 21:803–814,
1995
) to look for evidence of a mood congruent false memory effect in dysphoric individuals. Participants studied lists of semantically associated negative and neutral words for a recognition memory test. The memory test included critical lures (words not presented in the study lists, but strongly related to words on the lists) to assess false memory and non-presented negative and neutral unrelated words to assess participants' response bias. Although dysphoric participants falsely recognized significantly more critical lures related to the negative word lists, additional analyses revealed that this difference could be explained by a response bias that inflated their recognition responses to negatively valenced words. Directions for future research are discussed.