18-09-2015 | Original Article | Uitgave 4/2016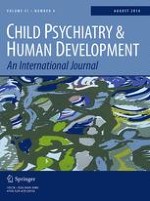 Dysregulation in Youth with Anxiety Disorders: Relationship to Acute and 7- to 19- Year Follow-Up Outcomes of Cognitive-Behavioral Therapy
Tijdschrift:
Auteurs:

Nicole E. Caporino, Joanna Herres, Philip C. Kendall, Courtney Benjamin Wolk
Abstract
This study evaluated the impact of dysregulation across cognitive, affective, and behavioral domains on acute and 7- to 19-year follow-up outcomes of cognitive-behavioral therapy (CBT) for anxiety, and explored dysregulation as a predictor of psychopathology and impairment in young adulthood among individuals who received anxiety treatment as youth. Participants (
N
= 64; 50 % female, 83 % non-Hispanic White) from two randomized clinical trials completed a follow-up assessment 7–19 years later. Latent profile analysis identified dysregulation based on Anxious/Depressed, Attention Problems, and Aggressive Behavior scores on the Child Behavior Checklist. Although pretreatment dysregulation was not related to acute or follow-up outcomes for anxiety diagnoses that were the focus of treatment, dysregulation predicted an array of non-targeted psychopathology at follow-up. Among youth with a principal anxiety disorder, the effects of CBT (
Coping Cat
) appear to be robust against broad impairments in self-regulation. However, youth with a pretreatment dysregulation profile likely need follow-up to monitor for the emergence of other disorders.