09-03-2018 | Uitgave 1/2018 Open Access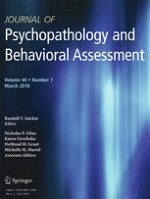 Comparing Different Approaches for Subtyping Children with Conduct Problems: Callous-Unemotional Traits Only Versus the Multidimensional Psychopathy Construct
Auteurs:

Olivier F. Colins, Henrik Andershed, Randall T. Salekin, Kostas A. Fanti
Belangrijke opmerkingen
Electronic supplementary material
Abstract
The aim of this study was to compare two youth psychopathy models (i.e., callous-unemotional versus multidimensional model) in their ability to predict future and stable conduct problems (CP). At baseline, mothers and fathers of 321 boys and 369 girls (ages 7–12) completed measures that tap callous-unemotional and other psychopathic traits. Parent-reported CP was collected at baseline and at 6- and 12 month follow-ups. Children were assigned to mutually exclusive groups based on their levels of CP and psychopathic traits. Children with CP who manifested callous-unemotional traits (
Callous-Unemotional + CP
) were occasionally at risk for future and stable CP. Yet, across gender, children with CP scoring high on all psychopathic trait dimensions (
Psychopathic Personality + CP
) showed the most robust and highest risk for future and stable CP. Also,
Callous-Unemotional + CP
children, and children who were only high in CP, often were at similar risk for future CP. The findings suggest that the callous-unemotional model is less sufficient than the multidimensional model in predicting future and stable CP. This can be concluded for both boys and girls and calls for more research reconsidering the multidimensional nature of psychopathy for CP subtyping purposes.