09-03-2018 | Uitgave 1/2018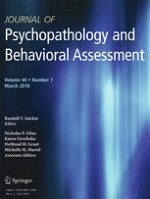 Psychopathic Personality Traits in Relation to Self-report Delinquency in Adolescence: Should We Mind About Interaction Effects?
Auteurs:

Antonella Somma, Henrik Andershed, Serena Borroni, Randall T. Salekin, Andrea Fossati
Abstract
The aim of the present study was to investigate if interaction effects among Youth Psychopathic Traits Inventory (YPI) Grandiose-Manipulative (GM), Callous-Unemotional (CU), and Impulsive-Irresponsible (II) may add significant information in predicting self-reports of juvenile delinquent behavior among adolescents. A sample of 558 Italian high school students were administered the YPI and the Self-Reports of Delinquency Scale (SRDS) in order to evaluate interaction effects among YPI GM, CU, and II dimensions. Results showed a significant effect for a three-way interaction among the three YPI dimensions in predicting the SRDS total score,
β
 = .19,
p
 < .01. In conclusion, the findings seem to underline that a three-factor model of psychopathy may help clinicians and researchers in predicting self-reported delinquency better than the individual factors.