08-08-2017 | Uitgave 1/2018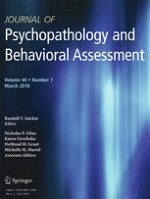 Depression and Approach Motivation: Differential Relations to Monetary, Social, and Food Reward
Auteurs:

Lauren M. Fussner, Kathryn J. Mancini, Aaron M. Luebbe
Abstract
Depression is associated with blunted reward functioning. It remains unknown, however, whether depression is linked to diminished motivation to approach reward across categories of reward stimuli, or if depression is differentially related to approach motivation. The current study tested associations between depression and behavioral approach motivation to specific reward stimuli (i.e., money, social, food reward). In a two-visit study, university females (
N
= 122,
M
age
= 18.67) completed measures of depression and three behavioral approach motivation tasks (completed across visits). Differential findings emerged across behavioral reward tasks. Specifically, depressive symptoms were associated with
decreased
motivation to approach monetary and social reward but
increased
motivation to approach food reward. Results suggest a category-specific conceptualization of depressive symptomatology in relation to behavioral approach motivation, whereby women with elevated symptoms may be less likely to approach certain rewards, but more likely to approach others.