01-04-2013 | Original Article | Uitgave 2/2013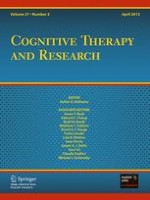 Can Paranoid Thoughts be Reduced by Targeting Negative Emotions and Self-Esteem? An Experimental Investigation of a Brief Compassion-Focused Intervention
Tijdschrift:
Auteurs:

Tania M. Lincoln, Felicitas Hohenhaus, Maike Hartmann
Abstract
Negative emotional states and low self-esteem play a crucial role in the development of persecutory delusions. This study therefore tests whether a brief intervention that targets negative emotions and self-esteem will reduce paranoid thoughts and whether this reduction will be mediated by a decrease in negative emotions and an increase in self-esteem. Healthy participants (
n
= 71) with varying levels of subclinical symptoms of psychosis (assessed with the Community Assessment of Psychic Experiences) were randomly assigned to a compassion-focused (CF) or a neutral control condition. Negative emotions were induced before the intervention by in sensu exposure to personally relevant distressing situations. Participants were then instructed to apply a previously trained compassion-focused versus a neutral image. Before and after the intervention paranoid thoughts were assessed by a state-adapted item from the Paranoia Checklist. Participants in the CF condition reported significantly lower levels of negative emotion, higher self-esteem and less paranoid thoughts compared to participants in the control condition. The effect of the CF-intervention on paranoid thoughts was mediated by reduced negative emotions but not by increased self-esteem. Persons with higher baseline scores on the CAPE responded to the intervention with a significantly stronger reduction of paranoid thoughts than persons with low or medium baseline scores. Interventions targeting the emotional processes involved in delusion formation might have potential to prevent the formation of paranoid beliefs in persons at risk of developing psychosis and reduce delusions in persons with clinically relevant symptom levels.