01-04-2013 | Original Article | Uitgave 2/2013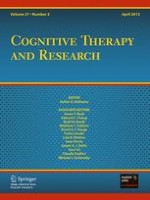 How Do I Measure Up? The Impact of Observable Signs of Anxiety and Confidence on Interpersonal Evaluations in Social Anxiety
Tijdschrift:
Auteurs:

Tatiana Bielak, David A. Moscovitch
Abstract
Previous research suggests that socially anxious individuals perceive observable signs of social anxiety (SA) as being interpersonally costly and indicative of having less positive attributes, such as strength of character and attractiveness. In the current study, female participants with high (
n
= 60) versus low (
n
= 59) levels of trait SA imagined a hypothetical interaction with a male social partner and rated their impressions of this partner across five desirable attributes (ambition, happiness, strength of character, achievement, and intelligence), both before and after the partner was described as appearing either visibly anxious or confident. Results suggested that while both high and low SA participants perceived observable symptoms of anxiety as being interpersonally undesirable, the two groups differed significantly in their appraisals of observable social confidence, with high but not low SA participants attributing highly positive characteristics to confident partners relative to baseline. Combined with their perception that observable anxiety is undesirable, high SA participants' idealized perception of confident partners as being "larger than life" may contribute to persistent feelings of inferiority and expectations of criticism and rejection in social encounters.